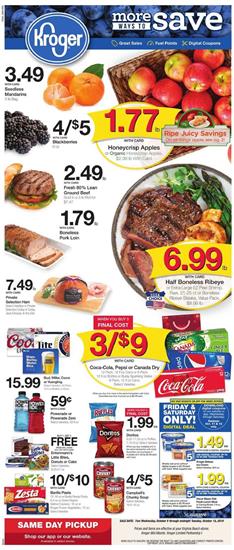 Kroger's new fresh range includes a special deal on apples. Organic honeycrisp apples will cost $1.88/lb at Kroger supermarket this week. See the first page of the Kroger Ad which is kind of a summary including some important discounts like digital deal that will be valid on Friday&Saturday. These weekend deals are frequently available in the weekly ads of this store. Pay $1.49 for Kroger deluxe ice cream and $1.99 for Oscar Mayer deli fresh lunch meat. You can use the coupons up to 5 times. Kroger Buy 5, Save $5 is an example of a typical and important saving method in this store.
One of the Fall's favorite fresh products is Apple. Kroger highlights the deals on apples and apple-flavored items such as Indian Summer apple cider priced at $3.99. Interesting deals are browsable on pg 4-5. Halloween is near. Consider shopping for your products at Kroger since it has a new product range on this ad. Hershey's Miniatures monster bag, Child's play candy, Brach's candy corn, and more items can be on your shopping list.
Kroger Buy 5, Save $5 Sale
Top deal of the week is Buy 5, Save $5 items consisting of various categories. People are usually shopping such deals whenever available. Buy Eckrich smoked sausage, private selection ice cream, Gatorade, Keebler cookies, and more products saving $5 on 5 of them. Note that you must buy 5 participating items to save. Moreover, non-food items from the household range have also been included in that sale. Quilted Northern bathroom tissue will cost $11.99.
You should also see the final page of this Kroger weekly ad. 20%, 50% off discounts on Halloween decoration such as skeletons, squishmallow, Halloween lights, Jack O' Lantern, and more. Spooktober will be fun as always. You can subscribe to the email list for free and get emails about these deals and the future weekly ads of the other stores.