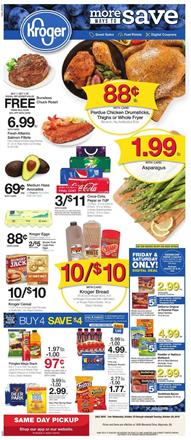 Use digital coupons up to 5 times to save on some products and expenses of the week. Kroger supermarket is your medicine if you want to save the health of your budget. Another mix and match sale participating products are in the new ad. Shop Frito-Lay multipack snacks, Deer Park, Fritos, and Pringles mega stack is participating. A lot of fresh products and fish are also Kroger's new product range. Buy boneless chuck roast and chicken drumsticks on the first page.  Kroger made a special page for the digital coupons this week. You can find them on Cheez-It, Oreo Cookies, Ben & Jerry's ice cream, and more products. They are redeemable up to 5 times.  Kroger Halloween food, snacks, candies, BOGOs, and decoration items are on pg 4 and the final page.
Are some of the digital coupon savings. Browse the third page of the Kroger Ad Oct 23 – 29 to see a larger portion of the ad.
Kroger Halloween Food, Snacks, Candies, and More
If you want to live the days of Halloween week with a festive ambient, what you need to do is clear. Gather as many party foods and snacks or candies and decorate your home with traditional and pop-culture items. Most of them are available in simple stores like Kroger. Today, you can see Hershey's, Mars or Nestlé Halloween candy for $8.99 on this Kroger Ad.
Kroger offers more of these things in the current ad. You can save with the baby event. Buy $40 Save $10 instantly on baby care products including Huggies. Home Chef products are also being offered with a similar deal. When you shop for groceries at Kroger supermarket, you also earn fuel points.
Check out more Halloween products and decoration on Kroger Ad: