Time to discover great selection of natural choices with Kroger Natural and Organics Deals August 2022! Natural products are preferred by those who want to eat healthier without compromising their taste.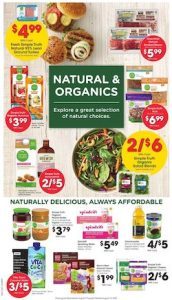 Thanks to the variety of natural products, it is possible to consume many products that you cannot give up on taste with low calories. These products are organic foods that do not contain additives. With both diet products and natural products, both health and taste can be preserved.
Natural and Organics Deals
Kroger is divided into four parts to reach them easily. These sections are with organic and natural products, gluten-free and salt-free products, sweeteners and diet products. A product range that appeals to every need and desire is available at Kroger Natural and Organics Deals August 2022. Organic options of foods that are indispensable for every home are waiting to be included in your kitchen.
In addition, it is easier to meet your snack requests in a lighter and healthier way thanks to diet products. Low-fat, sugar-free, whole-grain foods such as oat-bran are always with you whenever you feel hungry.
Among the delicious, light and natural food varieties that appeal to your taste, you can check out the products on Kroger Weekly Ad and buy them easily.
Kroger Ad This Week
Fresh Simple Truth Natural 93% Lean Ground Turkey, $4.99
Greenfield Natural Smoked Bacon, $5.99
Simple Truth Organic Hummus, $3.99
Simple Truth Nuts, $6.99
Spindriff Sparkling Water 6-Pack, $5.49
Simple Truth Almondmilk, 2 for $5
Simple Truth Organic Salad Blends, 2 for $6
Vita Coco Coconut Water, 3 for $5
Simple Truth Organic Peanut butter, $3.79
Vitaminbar, 4 for $5
Mom's Best Natural Cereal, $1.99
Simple Truth Organic Cheese, 2 for $6
Kroger Cook-in-Bag Seasoned St. Louis Style Pork Ribs, $4.99 lb.
Kroger Seafood Dips, 2 for $6
Private Selection Sliced Cheese, $3.99
Simple Truth Organic Red, Green, or Black Seedless Grapes, $5.99
Kroger Orange Juice, $3.99
Simple Truth Organic Milk, $5.49
Kroger Corn, $3.99
Fresh Baked Private Selection Cinnamon Rolls, $4.49
Kroger Bread, 3 for $4
Kroger Chunk Light Tuna, 79c
Simple Truth Greek Frozen Yogurt Bars, $3.99
Kroger Pasta Sauce, 2 for $3
Kroger French Toast Sticks, $2.79