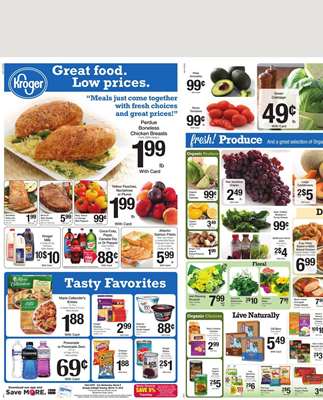 Great offers for meal are available in Kroger stores. Kroger Weekly Ad offers more than previous weeks in the name of savings. Plenty of Kroger ad deals can be found here.  You can find the best option for your tasty food selections. You can find incredible boneless Perdue Chicken Breasts with great prices. You can have that tasty food with $1,99 per lb, if you have a card. There are also hams and beefs with amazing prices. Choose the best one for yourselves and enjoy with your days.
In Kroger, you can find what you want to eat with superb prices! If you want to enjoy with some fruit, Yellow Peaches, Nectarines or Plums are only $1,99 per lb. It would be amazing idea if you are loyal to your diet. Make your days much tastier with amazing ideas from Kroger.
For making your food healthier and colorful, Red, Orange or Yellow peppers are just $0,99 for your selection. These are simply amazing offers. You can find more offers in stores to make your meals much tastier with amazing foods! You can make perfect salad with Avocadoes which costs also $0,99 in Kroger. You would smash inside of Avocado and mix it with lemon, it is amazing appetizer for every time! If you have a desire about seafood, there are also amazing offers for you! Atlantic Salmon Fillets are available for you!
You can drink some chilly beverages with those tasty foods. You can find Coca – Cola , Pepsi, Canada Dry, or Dr. Pepper soft drinks with perfect prices. These are only $ 0,99 for your purchase!Kroger milks are also on sale for better days.
If you need some energy for your work, you can find Powerade or Powerade Zero which is chosen favorite one by the customers. These are only $0,69! All you need is some courage by perfect selections of food and beverages. In Kroger, you can find them with pleasure!