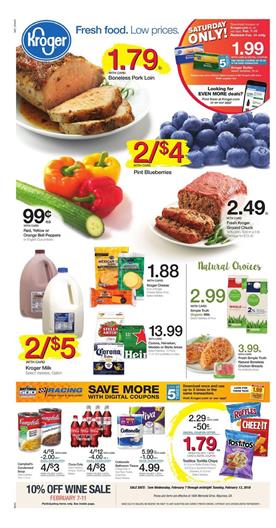 Top best prices for your favourite food products in categories like grocery, meat, snacks, beverage, and Valentine's Day. All of the deals can be browsed with the guide of current Kroger Weekly Ad. Lovely gifts with happy deals by Kroger. Lower the cost of expenses of gifts.
A frequent sale of Kroger is the fresh produce, meat and seafood promotion. Almost every weekly ad of Kroger contain a new price range for these categories. Today, you can browse digital coupons and start thinking of ways to save more on household products like Cottonelle, Viva. They will be cheaper with the digital coupon offers.
Check out pg 2 for the details of deals on Valentine's Day gifts. Combining the popular gifts with a fine selection of drinks and food they did a good job there. You can buy gifts for kids, too. Visit pg 4 and see candies, exchange cards and more.
Digital coupons that you can find on pg 4-5 will be valid for Nabisco Oreo cookies, Philedelphia cream cheese, Dannon Greek yoghurt, Gatorade or G2, Coffee-made creamer, Lean Cuisine entrée, Breyers Ice cream, General Mills cereal and more.
Great deals on meat products, seafood and fresh produce, and other food products. In the last page of the ad, you can find more gifts including plush toys.