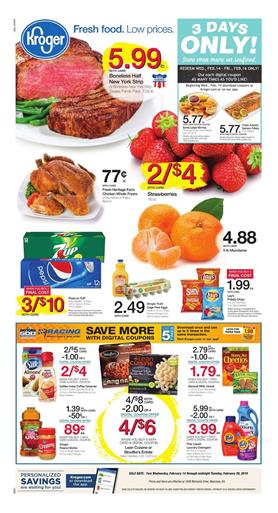 Use digital coupons as many times as you can with the 3 days only deal. Strawberries and NY strip steaks will be on sale at Kroger. If you like mandarins, you can buy 5 lb. for only $4.88 at Kroger stores this week.
Pepsi or 7UP soda packs will be $10 for 3. Browse digital coupon savings for 5 items on the cover page of this ad. A bigger part of the digital coupons can be seen on pg 2. Kroger has set the prices lower for the seafood for lent. Check out $1 saving per gallon of fuel and the conditions for the deal. FREE Friday Download of Kroger App.
You can get kitchenware for 20% or 25% lower prices. Open stock cookware, thermal beverageware, wilton metal bakeware and good cook pro kitchen gadgets are in that list. Visit pg 3 to discover what you can buy.
Also go to the final page of the ad to see Valentine's day gifts.
Discover more products with more weekly ads and deal posts. If you subscribe to this category you can get the posts about Kroger Weekly Ads. Alternatively go to the page of weekly ads on Facebook and follow there. Save more with digital coupons, organic products, deli & bakery, fresh produce at Kroger supermarket chain. Remember that Kroger app can be a handy tool for you if you want to receive personalized savings.