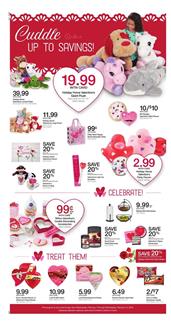 Kroger's Ad has a single page that has the best of Valentine's Day gifts. They have the products like Holiday Home Valentine's giant plush, Valentine's light up novelties and mugs. Cute little gift bags, chocolate boxes are also available.
All weekly ads have Valentine's Day gift sales but this might be a cheaper version of them. Kroger will let most customers find something suitable. Holiday Home Valentine's decor, HD Designs Valentine's mini pillows are among the products that are on sale.
Subscribe to the Kroger Weekly Ad for more deals and products like these. You will be able to get posts about the new ads as well.
If you are seeking more deals from Kroger, online sales will be available on their site and the ad preview can give you more of these products.