Over 100 Black Friday ads are viewable right now and some of them have already gone valid. Today, you can shop for some of the deals. We have already mentioned early access to some of them like Target Black Friday Ad. Also, there are still new ones. Some stores have last-minute ads. You should know that not all of them are only valid for one day. This year, some stores have double Black Friday ads like Meijer. Weeklong Meijer BF Ad has important deals. Live Black Friday deals don't consist of the entire product range of the given ad. Notice that not all the doorbusters are valid right now. Live Black Friday Ads and sales are being listed below. Moreover, you can directly go to the official shops and start shopping online. It's a long list. I suggest using CTRL + F and typing in your favorite brand will be a great help. Mobile users can find the Black Friday page more convenient.
Live Black Friday sales:
Some Good Deals From These BF Ads or Sales Many More in BF Page
Not all of the deals are officially valid but there are some highlighted products and deals you can shop right now. One example is the PlayStation 4 Pro 1TB console that is a purchase that will give you $90 Kohl's cash. The price is $299.99.
Kohl's Black Friday Ad 2019
Kohl's offers online-only Black Friday flash deals. Xbox One $75 Kohl's cash deal and Shark ION F80 multiflex cord-free vacuum are two highlighted deals. Kohl's Black Friday sale is also shoppable on this page. Like PlayStation, Xbox One flash deal is an interesting discount priced at $266.99. Remember! Get $15 Kohl's Cash for every $50 spent and Take an extra 15% off with the code "GIVETHANKS" at Kohl's. See Kohl's Black Friday Ad here. 
Some highlighted deals by Kohl's Black Friday Sale (15% off with code GIVETHANKS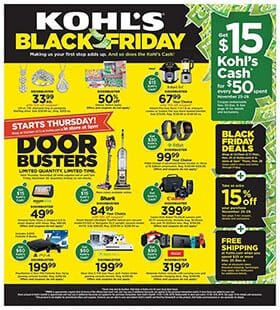 Best Buy Black Friday 2019 Live Deals
If you are a member of My Best Buy, you can enjoy the live deals of Best Buy Black Friday live deals right now. Go to this page to join. You can also browse Best Buy Black Friday Ad here. To shop all deals available right now, click here. 
Check out what you can buy from BF sale at Best Buy right now:
Many more are available for shopping on the official page of the Best Buy.
Amazon Black Friday Countdown Sale Is Live now
Shop an enormous range of products on amazon.com.  Amazon Black Friday countdown deals from tends of categories including clothing, home, electronics, and more. Encounter deals of the day, too. For example, Shark Navigator upright vacuum is 41% off right now. Don't miss out on this Amazon sale before the event begins.
Also, check out eBay Black Friday sale for it has some deals live right now, too. Early Black Friday deals might be more convenient and comfortable than visiting stores.