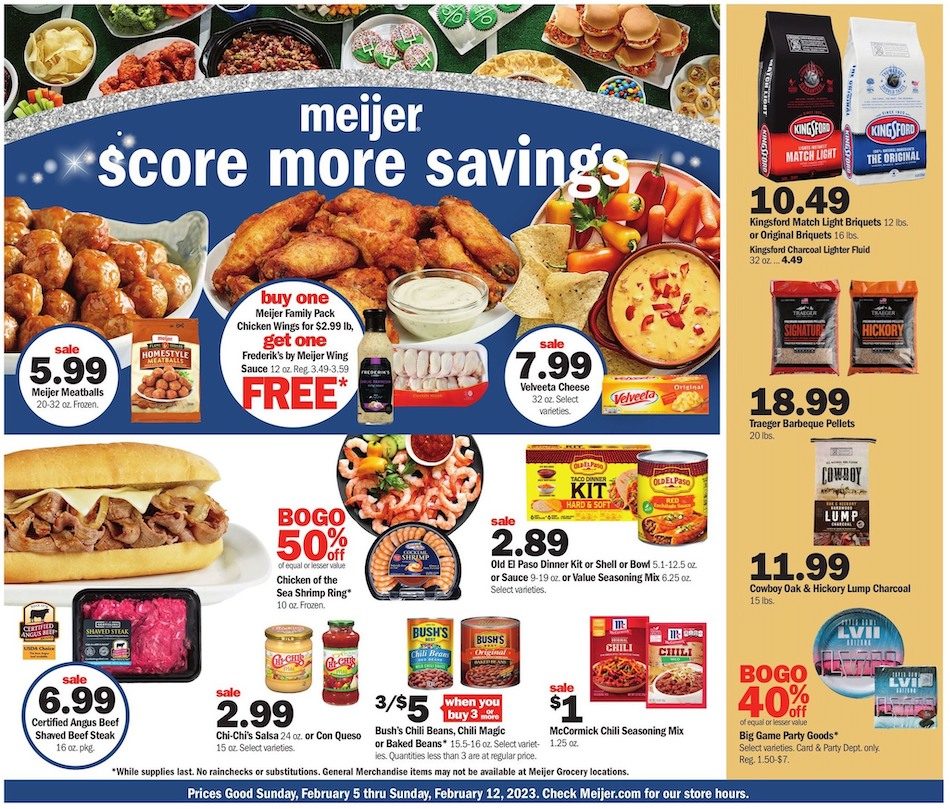 Share & Subscribe
( Be first to rate this Meijer Weekly Ad )
Get ready to cheer on your favorite team this Super Bowl Sunday with snacks from the Meijer Weekly Ad Superbowl Feb 5 - 11, 2023. With new deals on game snacks and more, you can buy some fun at lower prices and enjoy the big game with family and friends. Let's take a closer look at what's in store during this week's Meijer ad.
Meijer has an array of snacks available for your Super Bowl gathering that are sure to please friends and family alike. From chips and dip to cheese platters and candy – there's something for everyone. And don't forget to pick up some popcorn or pretzels while you're at it! You can save even more when you purchase select items in bulk.
No football party would be complete without wings! Pick up frozen wings from any of the Meijer locations near you and save when you purchase them in a bundle. If wings aren't your thing, there are plenty of other options too like pizza, sliders, tacos, burritos and more. You can also find meal kits so all you have to do is heat it up and serve!
Beverages for Everyone
The drinks cooler is stocked full of refreshing beverages for every occasion including Super Bowl parties! Stock up on soft drinks, teas, juices, energy drinks or beer – whatever your preference may be. You can also find deals on popular party-sized containers - perfect for larger gatherings. So grab a few extra bottles or cans before they sell out!
Don't miss out on all the exciting deals this week during the Meijer Weekly Ad Superbowl Feb 5 - 11th 2023! Whether you are hosting a small gathering or planning a big bash – make sure to stock up on game snacks at discounted prices so no one goes hungry watching the big game this weekend. With so many options available in-store or online – get shopping now before it's too late!
See What's On Sale in Meijer Weekly Ad Superbowl Feb 5 - 11, 2023
Mmm, mmm! Meijer Family Pack Chicken Wings are the perfect go-to for a delicious snack. Ready to cook, tender and juicy, these wings come in a convenient family pack that's sure to satisfy everyone. Indulge in the delicious taste of these chicken wings, now available for only $2.99 per pound - it's a great bargain you won't want to miss!
Maximize your culinary creations with Meijer Meatballs! Made using only premium ingredients and perfectly seasoned for maximum flavor, these juicy meatballs are a great price at just $5.99 per pack. Whether you're crafting Italian dishes or trying something new, these delicious morsels of goodness will make any meal extraordinary! Don't let this deal pass you by – take advantage of the sale now and enjoy the scrumptious taste of Meijer Meatballs.