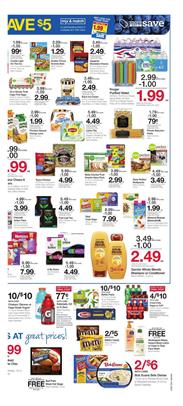 Discover the new deals of this week on Kroger Weekly Ad. Spend $100 on groceries to participate in the fuel VIP and earn 200 fuel points. Get triple fuel points instead of double or quadruple instead of triple. Save $.20 per gallon. Extra savings are not only for fuel purchases at Kroger stores this week. Use digital coupons to save off Kroger cheese, Kettle brand chips, and more products on Friday & Saturday. Kroger Weekly Ad Jun 19 – 25 can help you save more this week.
Kroger Mix and Match Sale Jun 19 – 25
Kroger Ad has an extensive list of products as participating items to the mix and match sale. Buy 5, Save $5 in this particular part of the Kroger stores. Each product's price will reduce by $1 when you buy 5 items with your card. Not only food is available in this sale. Buy Garnier whole blends shampoo or conditioner for $2.49. Find feminine care, baby products, household essentials, trash bags, and more non-food category products in this sale. Kroger has a wide range of supermarket categories and weekly shopping products. I think it's very much possible for you to find something that you lack currently.
Browse these products on pg 5 of the latest Kroger Weekly Ad Jun Preview:
Kroger Fresh Food Sale
If you like to shop online for groceries and fresh food, I also recommend you to visit Amazonfresh and Whole Foods Market deals.
Kroger has a fresh food sale in the ad. Read about the new prices of the week for the products like Simple Truth organic foods, English cucumbers, salad blends, and more items on pg 7. Buy 2 Athena cantaloupe for $5 starting tomorrow. This is the digital version of the ad so that you can see all pages with HD resolution. Earn 3x fuel points with these participating grocery and snack items: