Latest product range of Publix Ad B1G1 Free Oct 26 – Nov 1 2016 contains great food offers, packaged convenient food, seafood, meat meals, GreenWise organic food and many more products. Halloween candies were available in this ad.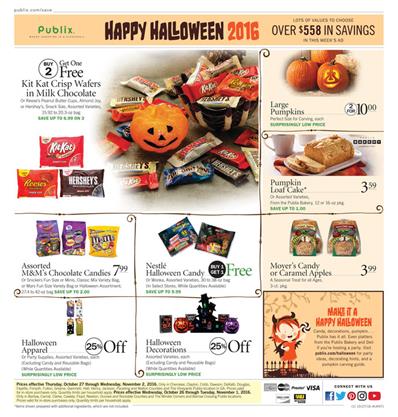 Boneless skinless chicken breast is always a light meal. Sometimes I even prefer it for breakfast if I already had some work at the day. On this ad you can find similar food products by Publix.
Publix Boneless skinless chicken breast B1G1 Free – Save $4.69 lb.
Simply Potatoes Mashed potatoes 24 oz. – Save $3.99
Publix medium cooked shrimp B1G1 Free – Save $20.99
Fresh Express Salad Blend B1G1 Free – Save $3.99
Nature Valley granola bars B1G1 Free – Save $6.79
Tyson Chicken Nuggets B1G1 Free – Save $6.29
Tyson Any'tizers Chicken B1G1 Free – Save $8.99
State Fair Corn Dogs B1G1 Free – Save $3.49
Publix GreenWise organic food whole chicken, organic snacks, green beans are also on sale. Check out pg 6 for details. Publix Deli Tea B1G1 Free – Save $2.99. B1G1 Free Snacks are also available in the ad. Visit pg 10 of the ad to discover them.
Campbell's Chunky soup B1G1 Free – Save $2.39
Classico Pasta sauce B1G1 Free – Save $4.99
Assorted Ken's Steak house dressing B1G1 Free – Save $4.99
Ocean Spray Juice cocktail or drink B1G1 Free – 101.4 oz. $5.99
Assorted Kellogg's frosted flakes cereal B1G1 Free – Save $4.79
8-Pack assorted Pepsi products B1G1 Free – Save $4.99
Planters Peanuts B1G1 Free – Save $3.99
Nabisco Honey Maid Grahams B1G1 Free – Save $4.19