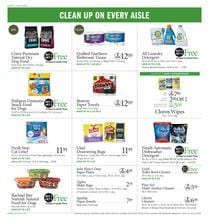 In the aisle of non-food categories, there are BOGO Free and multiple-buy deals of Publix Ad on pg 14. Shop consumables and chemical cleaning products. Also, laundry detergents of some popular brands are available on Publix weekly ad Jul 17 – 23. all Laundry detergent is one of the top 10 detergents of popular ones. I recommend you to use stain remover with this product. You can use the BOGO Free deal at Publix to buy pacs, oxi, and liquid products of all. Save $5.99 on this item. One of the essentials is Clorox wipes on this household range. Go to pg 14 to see Digital Coupon deal which is $2 off 2 and the sale price is 2 for $7. Its final price is 2 for $5. Clorox wipes is an item that is accepted as one of the vital parts of home cleaning. For most people, it's a lifesaver for it has an efficient use on many different surfaces. College students, moms, professional cleaning workers, and millions of people use these. In the review sites, you can easily see that Clorox wipes are the number one cleaning item. You can buy Clorox disinfecting wipes here, too. See the products of Publix Ad Cleaning Supplies Jul 17 – 23, 2019 below.
BOGO Free deals:
More deals including coupons:
Follow our Facebook page for more deals like Publix Ad Cleaning Supplies Jul 17 – 23.