Publix offers new delicious food deals for Father's Day week and a lot of sweet deals are available in the ad. Not just meat products are available. You can buy Publix bakery chocolate chip cookie is $10.99. Go to the second page where you can find healthy yogurt deals. Yogurt is good for your digestive system and it will be delicious when you make it right. Dannon Light + Fit Greek Yogurt will be BOGO free deal. Also, more BOGO deals for products like Cheerios, Kraft dressing, pecan salad, and more are some of those BOGO deals. Check out new offers in the fresh category, too. Publix Weekly Ad Jun 14 – 20, 2023 has these offers: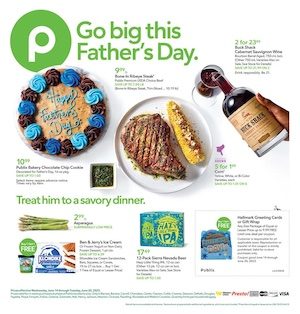 From the Father's Day sale on the first page:
Publix Bakery Chocolate Chip Cookie $10.99
Bone-In Ribeye Steak $9.99 lb.
Corn 5 for $1.99
Buck Shack Cabernet Sauvignon Wine 2 for $23.99
Hallmark Greeting Cards or Gift Wrap BOGO free
Ben & Jerry's Ice Cream BOGO free
12-Pack Sierra Nevada Beer $17.49
BOGO Sale – Publix Ad Deals Jun 14 – 20
You can start browsing BOGO deals from the second page. Cheerios, Mini-Wheats, muffin mix, and more products are gonna be BOGOs. Check out these deals:
General Mills Cheerios Cereal
Kellogg's Mini-Wheats Cereal
Martha White Muffin Mix
Yoplait Original Yogurt
Kraft Dressing
There are even BOGO free deals in the meat department. You have pork spareribs and pork loin fillet as BOGOs in the fresh section of the new weekly ad.
Grocery BOGOs: Diamond Shelled Walnuts, Pillsbury Cake, brownie, or cookie mix, and more
Snack BOGOs: 12-pack Pepsi Products, utz Potato Chips, Doritos Tortilla Chips, Nabisco Party Size Cookies or Crackers, and more
Frozen BOGOs: Mayfield Ice Cream, Icelandic Provisions Skyr Yogurt, Kellogg's Eggo Waffles, Earth Balance Buttery Spread, and more
Check out the household supplies like bathroom tissues, cat litter, LED light bulbs, and many more home products in the new ad, too. Subscribe to the newsletter of weeklyads2.com to get ads like this in emails.