The sub of the week is Boar's Head Turkey sub which you can order online by choosing its ingredient. And the new Publix Ad is ready. Chip cookies, asparagus, chicken breast, marinade, and more products are on the first page, and some of them are BOGOs.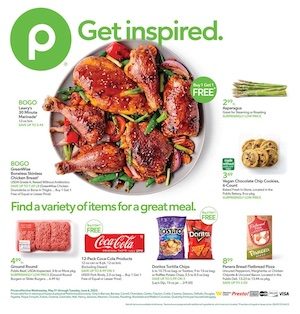 Go to the second page if you want to earn a $10 Publix Gift Card every time you buy $50 in participating items. Stocking Spree 365 will give you more details about that deal. Check out the new recipe of Food Truck Sausage Hoagies. There is a lot of BOGO free deals in this ad just like most Publix ads.
Lawry's 30 Minute Marinade BOGO free
Doritos Tortilla Chips Buy 2 Get 1 Free
12-Pack Coca-Cola Products Buy 2 Get 1 Free
Kraft Velveeta Shells & Cheese Dinner BOGO free
Maxwell House Ground Coffee BOGO free
Quaker Rice Crisps BOGO free
Aquafina Pure Water Buy 2 Get 1 Free
Lipton Tea Buy 2 Get 1 Free
Meat, Fresh Produce, Deli – Bakery
Sausage, gourmet burgers, salmon select cuts, tilapia fillets, baby potatoes, tomatoes on the vine and many more fresh products are available in the fresh produce. Publix Ad Deals May 31 – Jun 6, 2023 have got products like these:
Publix Extra Lean Pork Loin Tenderloins BOGO Free
Top Sirloin Steak $7.49 lb.
Pero Family Farms Mini Sweet Peppers BOGO Free
Strawberries 3 for $10
BelGioioso Fresh Mozzarella Cheese BOGO free
Stonefire Mini Naan BOGO free
Snack Factory Pretzel Crisps BOGO free
BOGO Free Sale – Publix Ad Deals May 31 – Jun 6, 2023
Buy grocery products, 6-pack Pepsi products, goldfish snack crackers, etc. You can buy your favorite snacks and ice cream BOGO free, too.
Grocery BOGOs: Post Great Grains Cereal, Splenda No Calorie Sweetener, Ken's Steak House Dressing, Quaker Cap'N Crunch Cereal, Juicy Juice 100% Apple Juice, and more
Snack BOGOs: Second Nature Trail Mix, Wonder Classic White Enriched Bread, Cretors Popcorn, Pepperidge Farm Goldfish Snack Crackers
Frozen BOGOs: Rhodes Frozen Rolls, Stouffer's or Lean Cuisine Entrées, Gorton's Fish Fillets or Sticks
You can browse a bunch more of these products and BOGOs, coupons in the Publix Ad.