Dinner rolls, potatoes, top sirloin steak, fresh attitude salad, ground beef, and many more products are available on the first page. A few of them are BOGO deals. This ad contains a lot of BOGOs just like a regular week at Publix stores. Halloween treats are already everywhere. You can find some in the new Publix Ad, too. Wrigley's Halloween Candy, Nerds Gummy Clusters, and more products are BOGO deals. Check out the second page for Halloween sweets. We all love Halloween candies but there is more to this weekly ad sale. A recipe of ravioli with brown butter sage sauce is this week's delish. Browse Publix BOGO Free Sep 27 – Oct 3 2023 in the weekly ad: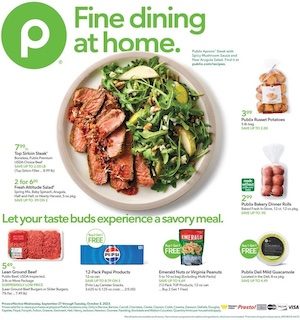 BOGO free 12-Pack Pepsi Products, Emerald Nuts or Virginia Peanuts, Deli Mild Guacamole
Halloween treats: BOGO deals on Wrigley's Halloween Candy, Nerds Gummy Clusters, Wether's Original Caramels, Halloween Candy
BOGO free Hormel Pepperoni, Polly-O Mozzarella String Cheese
Produce: BOGO free fresh express salad blend, Marzetti dressing, Publix Pineapple chunks
Bakery: BelGioioso Shredded Parmesan Cheese BOGO free
Buy 2 Get 1 Free Crunchmaster Crackers
BOGO free Publix Bakery Blueberry muffins
Check out the products from grocery, snacks, frozen foods that will be BOGOs at Publix stores. In this ad you can find dozens.
Grocery BOGOs: General Mills Cheerios Cereal, Duncan Hines Cake Mix, Kraft Velveeta, Green Mountain Coffee, Crystal Light Drink Mix, Quaker Instant Oatmeal
Snacks and grocery BOGOs: Utz Potato Chips, Coke, M&M's Share Size, Pepperidge Farm Goldfish Snack Crackers, Thomas' English Muffins, and more
Frozen BOGOs: Talenti Gelato, Oui by Yoplait French Style Yogurt, Oikos Triple Zero Blended Greek Yogurt, Gorton's Simply Bake salmon fillets
Personal care section also contains some BOGO deals. Find household supplies, dog snacks, cat litter, and many others. Many others are available in the Publix Weekly Ad.