Publix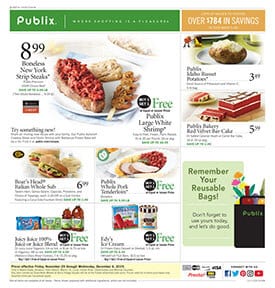 sells some important grocery products as BOGO Free deals this week starting tomorrow. At the weekend, you can shop for some breakfast food, pantry products, bakery-deli products, snacks, drinks, frozen food, and more at lower prices. Publix BOGO Free V8 Splash juice is a deal available on pg 12. Save up to $3.89 on that product. Alternatives for the same deal and price are also available there. The store advertises more BOGOs on the same page. For example, Nature's Own 100% whole wheat bread is a deal where you can save up to $6.15 since the second item is free. Subscribe to Publix weekly ad for more deals like this post.
Refill your kitchen cabinet with a lot of food and snacks. Nutritious breakfast foods, applesauce, rice sides, celestial seasonings tea, and more products are being promoted right now. You would be wise to shop for your needs at this store while there are profitable deals.
Publix BOGO Free deals:
Snacks and more breakfast food:
Publix Ad has also non-food deals, Thanksgiving savings on the other issue. Currently, some deals are still valid. Check out Thanksgiving hours of the store.