Save with Publix BOGOs Jul 8 – 14 starting from today. Publix has 59 BOGO deals this week. From supermarket products to chemical household essentials, there is a wide range of products. This week's BOGO free deals are not only food items. Find stationery products for school. BIC multi-purpose lighter, Crayola Markers, Sharpie highlighters, and more products are also on sale. If you want to see an important portion of the Publix BOGOs Jul 8 – 14, visit pg 12-14 of the latest ad. They are mostly grocery products but you'll see a good range of BOGOs there. Bakery, deli, meat, fresh produce, dairy, breakfast products, and many more products are on BOGO free.
Publix BOGOs Jul 8 – 14, 2020 – Weekly Ad
Buy cereals BOGO free this week. Shift your breakfast diet to a healthier side. Cereals are a quick and easy way to have a nice breakfast in the mornings. Nature Valley Bars, Quaker Oatmeal Squares cereal, and more breakfast foods are BOGO free this week on Publix Ad.
Publix Ad BOGO sale also covers some canned fruits. If you like to snack, dried fruits are a healthy option for you. One of the best items from this is Betty Crocker fruit snacks.
Buy BBQ sauce, olive oil, and more things that will be needed when you want to enjoy your backyard. Olive oil is one of the BOGO free deals at Publix this week.
Even more, deals are available from snacking aisles of Publix ad this week. Buy cookies, organic baby food, and more products. Get the second item for free.
If you want to see all the deals of the Publix Weekly ad Jul 8 – 14, 2020, go to the browsable pages. Don't forget to buy treats for your pets, too. High-quality cat or dog foods, snacks, and other essentials are BOGO free deals of the week.
Non-food part of the BOGO sale is also interesting. You can find school supplies, stationery products, candles, detergent, highlighters, permanent markers, and more products. Household supplies like detergent and other deals are also there.
If you like to have frozen foods as your quick dinner ideas, you might want to see the products below.
Publix BOGOs Jul 8 – 14 are also deli, bakery, meat, and fresh products. Check out these items of the week, too.
Shop some products of the road center, too. Cheese, spread, yogurt, and more products are these BOGO Free deals. Again, all of these can be viewed on the Publix Ad, too.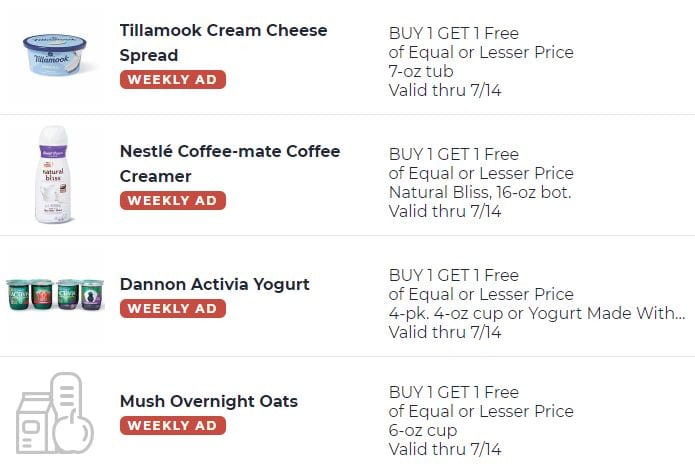 Subscribe to the newsletter to receive more deals like Publix BOGOs Jul 8 – 14, 2020.