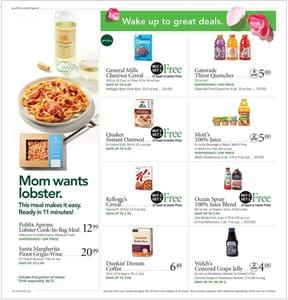 Breakfast food, snacks, grocery products, and more stuff are Publix BOGOs this week. Shop your favorite foods and drinks saving more. Save up to $5.29 on General Mills Cheerios cereal. A big part of your breakfast routine including products like Cheerios cereal, Gatorade Thirst Quencher, oatmeal, and more items are Publix BOGOs May 6 – 12. Another category of Publix BOGOs in the Mother's Day range is the pantry category. You have Mother's Day food from the deli. Boar's Head turkey slider trio, brie mini platter, salad bowl, and more products are also available in the category. This is the pantry category where you can buy Vlasic Pickles, pasta sauce, and more products to make your meal tastier. Publix weekly ad breakfast food today:
Publix BOGOs May 6 – 12 Snacks and Ice Cream
Browse the frozen products, snacks, chips, and some of your favorite soda packs. Mostly bulky products are here. It's more profitable to buy bulky items over the long term. Especially when you want to buy some coke. If you are a family of four people, you might be drinking more than 2L coke a day. That means maybe more than 14L a week. If you buy 12-pack Coca-Cola products, I think you'll be able to find some fresh cold coke in your fridge.
Also, buy cakes for Mother's Day. Strawberry and peach sensation cake is only $19.99 at Publix. Browse Publix BOGOs May 6 – 12 for more deals on the latest Publix weekly ad. Subscribe to the Publix Ad for more deals in your inbox.