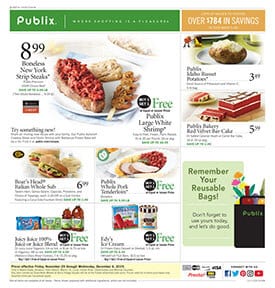 Thanksgiving week is one of the most intense times in terms of deals and weekly ads. Black Friday, holiday deals, and Thanksgiving dinner deals are all in the supermarket weekly ads. Today, you can also browse next week's ads of some supermarkets including Publix. If you want to see the deals on Thanksgiving products, see this Publix Ad Nov 21 – 27. But it expires today or tomorrow depending on where you live. You can subscribe to get similar deals to Publix Grocery Deals Weekly Ad.
New BOGO Free deals are being promoted in the new Publix weekly ad. Save on premium beef and deli products on the first page. Boar's Head Italian whole sub is $6.99 starting on Nov 29. Shop big deals on some popular products including Jif and Godiva on pg 2.
And more items on the same page. New recipes are also readable on this ad. Find two interesting recipes that will take your 2 hours if you do both. Cocoa Crisp and Toffee cookies, and Pumpkin Whoopie Pies are two great recipes by Publix next week.
Meat, Seafood, GreenWise Products and More in Publix Ad Nov 29
Shop Greenwise organic products if you like to have some organic food at home. Shredded cheese and egg whites are gonna be on sale. Visit pg 4 for a new price range of meat products, seafood, and more BOGO Deals. Brisket will cost $6.99 lb. at Publix. Also, you can find chicken deals including chicken breast, steaks, and fresh produce on the latter part of the weekly ad.
Fresh Food and Deli-Bakery Products
Publix has always been a popular place for the folks who like to buy some quick foods. Therefore their subs are so popular. You can find delicious cakes, Italian whole subs, sandwiches, wraps, and similar quick foods to pack for your lunch. Their fresh range is also quite attractive. You can almost forget about cooking when you see these products.
GreenWise organic product range is viewable on pg 10. Don't forget to see the entire product range of this Publix Ad to save at maximum this week. Publix Grocery Deals Weekly Ad is just a part of the whole fuss right now. Go to Black Friday Ad category to see hundreds of great deals.