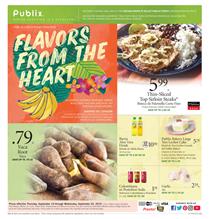 Celebrate Hispanic Heritage month with awesome foods and drinks at lower costs. You can use Publix weekly ad to find some good deals like top sirloin steaks. Prepare party foods and snacks for gathering. Yuca root, Iberia Aloe Vera drink, and more products are promotional deals on the first page of the Publix Ad. The weekly ad also shows the price range for snacks and beverage on pg 2. 5-piece Publix deli chicken wings meal is one of the great options. Pay only $4.99 for the chicken wings. They can make great party foods. You can also find a list of places where the events of tasting, giveaways, and savings in celebration of Hispanic Heritage Month. Visit pg 4 to see these places. Traditional foods of Publix Hispanic Heritage Month and the discounts can be easily found on the first 4 pages.
More Publix products including snacks and Iberia products:
Publix Grocery Sale and Dinner Ideas
As usual, Publix has fantastic ideas for dinner sessions of everyone. If not for the Hispanic Heritage Month, pg 5 would be the cover of this Publix weekly ad issue. Check out BOGO free deals on side dishes, new products like turkey breast on that page. A coupon which is usually available every week is also on that page. Find Kosher foods on pg 6. Publix has always been a store where you can find diverse product range including Kosher products.
Learn a recipe by Publix. The instruction for how to make Sausage With onion-apple gravy over potatoes can be read on pg 7 of this ad. Find Publix dinner ideas consisting of meat and seafood on pg 8-9. Bone-In ribeye steaks will cost $9.99.
Publix Fresh Produce, Deli, and Bakery Sale
If you want to let the best fresh products whet your appetize, check out the images of Publix fresh grocery range on pg 10. Including organic products, the source of life waits for customers at weekly ad prices. Buy Avocados, Red Onions, Fresh Attitude salad, and beefsteak tomatoes or tomatoes on the vine
Deli and Bakery