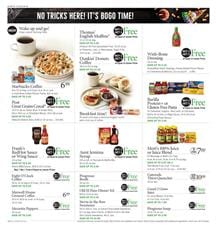 Shop BOGOs on Publix Ad to save on essential foods from aisles like a pantry, grocery, breakfast, and beverage. Tea and coffee are usually BOGO free savings in all Publix weekly ads, too. Usually, there is a BOGO free deal on a Starbucks coffee item. You can see these when you regularly check this page. Halloween has come and people need some treats. Snacks and candies are good but some like it from delicious departments like bakery and deli. Visit the bakery section of Publix Ad Oct 24 to see cookies, cupcakes, specialty cake, and gala apples, classic slider trio, and more. Mott's 100% juice or Juice blend can be found in the BOGO free section. Publix will sell 3 of them for $7 this week. You can save up to $2.87 on 3. That means not only BOGOs are in this part. View pg 10-12 to see a variety of discounts but the big portion of it is the BOGO Free items. Publix weekly ad BOGO Free sale has sauces and snacks. Keebler Townhouse or club crackers are BOGO Free, too. Most working people like to have some frozen food in their fridge. Pizza is one of them and Tombstone pizza is one of the popular ones. Save up to $9.69 on Tombstone pizza this week.
Publix weekly ad BOGO Free sale Oct 24:
Snacks and more:
Dairy and frozen:
Many more of these BOGO free deals are available in Publix Ad Oct 24-30.