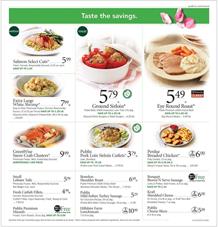 Yummy desserts for Mother's Day are perfect gifts at Publix. Browse new prices and BOGO free deals on cake and chocolate boxes on the first page if you are looking for some nice gifts. Premium dozen roses bouquet will cost $14.99 at Publix stores this week. The recipe of new ideas for dinner and some chicken products are also on sale. Publix offers Publix Aprons parmesan chicken breast cutlets for only $6.49/lb. Publix Weekly Ad Mother's Day gifts:
Publix Seafood and Meat Sale
Salmon is very easy to fry on a pan. Just heat your pan with a little bit oil until it's almost smoking. Don't let it smoke though. Heat just enough to see the salmon cut will sizzle. Cook a side of it for only 5 min. After that, check the temperature to estimate how long you need to cook the other side. Don't check or flip during the cooking time. Let it absorb the heat completely. Salmon select cuts will cost only $5.99 on Publix Weekly Ad.
Publix Fresh Products and Deli
Buy Publix subs and French bread in the deli section. Always one of the best parts of all Publix Ads. You'll find Publix bakery lemon créme cake slices for only $4.99. Sweet corn, blueberries, Athena cantaloupes, Del Monte golden ripe pineapple, and more products are featured items in the fresh sale. Also, in this ad, you can find new BOGO Free sale regarding pantry, grocery, snacks, breakfast food. Publix Weekly Ad Mother's Day May 6 – 12 is nice but more can be in your inbox when you subscribe to the free newsletter.