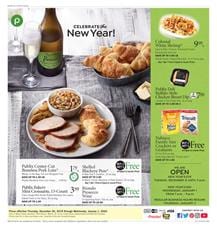 Merry Christmas. Shop your New Year celebration food and pantry products from the Publix weekly ad. GreenWise organic products are also on sale at Publix this week. Many people prefer these over conventional products. Russett potatoes, organic whole chicken, organic quinoa, and more items are yours to view on pg 2. A new recipe is also in the Publix Ad. The slow cooker recipe is available on pg 3. View more for the possible meals for dinner. Extra-large cooked shrimp, chicken breast, tenderloin steaks, and more items are possibly the products that are worth seeing. Publix blackeye peas will cost $.69 and ground round will be $3.99/lb. at Publix supermarket. Subscribe to the category page for more deals like Publix Weekly Ad New Year sale.
If you want to decorate your steak with fried onions, Publix has a nice product for that purpose. Buy Publix French fried onions for $1.99 and save up to $.70. Side dishes are my favorites in any kind of dinner table. GreenWise Italian chicken sausage may be a good choice. Raised without antibiotics, it will be a Buy 2 Get 1 Free deal.
Greenwise products:
Publix BOGO Fresh Products and Salads
There are two important reasons people want to go to a Publix supermarket. At least I see them usually highlighted in these ads. They are deli subs and fresh salads. You have more deals on products like fresh express salad blend orange juice, and fruit salad on Publix Ad pg 6. Shop wings, meatball whole subs, cheese, and similar deli products that are viewable on pg 8. Publix deli smoked half slab ribs will cost $8.99 this week.
Publix Bakery Products
I think this is the part you should check if you want to shop for the celebration of the New Year. Check out Publix weekly ad pg 9 for cheesecake, cookies, glazed donuts, and more. Subscribe to the Publix ad to get emails about the content of deals and new sales from the weekly ads.