Customers got a classic Publix Ad with a lot of bogo deals and 10/$10, 5/$10 or 3/$10 deals on pg 2.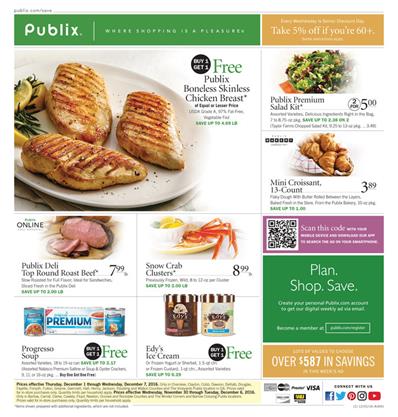 Bogo deals are heavily valid on special meal ideas, snacks, pantry and frozen products. Publix Weekly Ad Nov 30 – Dec 6 2016 sale offers rare prices for favorite products like 7UP, Greek yogurt, planters peanuts, Michael Angelo's entrees, and many more.
While glancing over, read the recipe and take notes for a delicious pasta. The recipe is readable on pg 3. This week's outstanding meal variety was presented on pg 4-5. Don't spend so much time on searching for suitable prices or quality. You don't need anything else if you have a Publix Ad this week.
Publix Ad Deals on pg 2
Fage Greek yogurt 10/$10
Chapstick lip moisturizer 10/$10
Pillsbury cake mix 10/$10
Shrimp Skewers 10/$10
Planters peanuts 5/$10
Pepperidge Farm cookies 5/$10
6-pk assorted Canada,DRY, 7UP, or A&W 5/$10
Weight Watchers snacks 5/$10
Michael Angelo's entrees 3/$10
MorningStar Farms veggie entree 3/$10
Dannon Greek yogurt 3/$10
Publix Premium mussels 3/$10
My favorite part of each Publix ad is the pg 4-5. Delicious meals are always at Publix stores. Check out bogo free deals of this product range:
Bush's Best cocina Latina beans B1G1 Free pg 4
Publix chicken leg quarters B1G1 Free
Perdue short cuts chicken breast B1G1 Free
Mama Lucia meatballs B1G1 Free pg 5
Publix Golden ripe pineapple chunks B1G1 Free pg 6
Entire product list of Fresh produce dept. can be seen on pg 6&7. Special holiday cheese variety by Publix deli on pg 8. It's awesome to have these ! Don't forget to see all the cheese products of holidays.
Publix deli imported Dutch vintage gouda cheese $12.99 lb.
Publix Deli Vintage cheddar cheese $9.99 lb.
Publix Deli Medley seasoned olives $4.99
The real bogo deals of this ad are available on pg 10-11. Snacks, beverage, breakfast, packaged, dry and sauces are mostly bogo deals on these pages. Please check out the preview for detailed information.