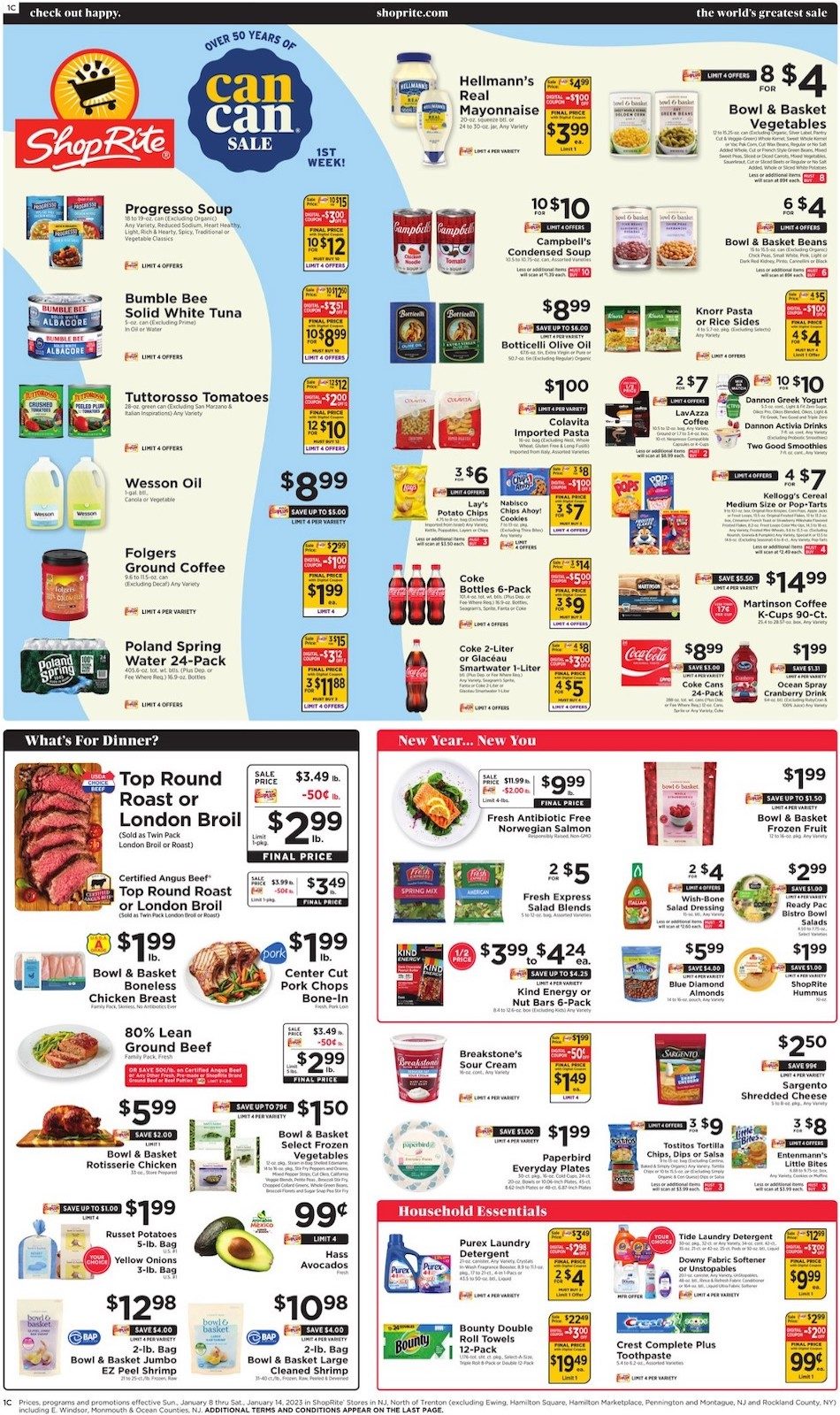 Share & Subscribe
( Be first to rate this Shoprite Weekly Ad )
We love the convenience of being able to pick up our groceries on the way home from work, but we don't always love the price tags. That's why we're always on the lookout for grocery deals at Shoprite!
Shoprite is the perfect place to find all of your favorite products at unbeatable value. Shoprite Weekly Ad Jan 8 - 14, 2023 has great deals on baby products, beauty products and more! This week's ad features great deals on fish, meat, produce, and snacks — all at prices you can afford.
The Shoprite weekly ad for Jan 8 - 14, 2023 has everything you need to make your week run smoothly. Whether you're a parent looking for baby essentials or a health nut looking for the latest superfoods, Shoprite has it all.
They know how important it is for you to have healthy options on hand so that you can get back home and start cooking right away. That's why they offer fresh produce that is picked at the peak of ripeness, so you don't have to worry about your family getting sick from eating something that wasn't fresh enough.
Their frozen section is also filled with some of our favorite things — from frozen pizza to ice cream, they've got all your favorites covered! And if you're feeling adventurous, why not try some sushi rolls? We love how easy they are to make and how delicious they taste!
Shoprite, a retailer of groceries and general merchandise, offers a variety of products to meet your needs. In the baby department, you'll find everything from diapers, wipes, and formula to toys, clothes, and gear for travel. In the beauty department, you'll find makeup and other cosmetics for men and women. Bread & bakery has breads from all over the world as well as cakes, pastries, cookies, muffins, rolls and much more. The dairy department has all your favorites including milk in various sizes and flavors like chocolate or strawberry along with cheese singles or shredded cheese packs which are great for sandwiches or snacks on their own!
The frozen department offers frozen meals that are ready in minutes like lasagna or macaroni & cheese along with chicken nuggets/fingers as well as fish sticks that make it easy to feed yourself while cooking dinner or entertaining guests at home without having to worry about creating a mess because everything comes in a disposable tray so after eating just throw away what's left behind without having to clean up afterward!
If you're looking for something sweet then check out the pantry section where you'll find all different kinds of candy bars like Snickers®, Hershey, Haribo and Werther's.
Featured Items of the Week at ShopRite During the Week of Jan 8th through 14th, 2023
There's a reason Shoprite is so popular, and it's not just because their circulars are so darn cute. It's because they have an amazing selection of products at affordable prices.
They have everything from baby products to deli meat and seafood. They even have frozen foods that are perfect for those days when you need dinner on the table fast.
You'll be sure to find something in your local Shoprite that will make your family happy!