Alongside the big department stores like Walmart, grocery stores like Kroger and its subsidiaries, Winn Dixie, ALDI, and many more supermarkets have Thanksgiving and Black Friday Ads, too. Some of them are already working like a department store. For example, Kroger has ship-to-home sales. Meijer offers additional ads for holiday gifts, toys, etc. Walmart is already like a warehouse. Also, Costco has a month-long Black Friday ad with its grocery items included. You can find special Thanksgiving sale in a Dollar General Ad this week. Browse these Black Friday Supermarket Ads:
Kroger Black Friday Ad 2021
Kroger, Ralphs, Fry's, and more supermarkets of Kroger have all single-page Black Friday Ads right now. You can find special deals like vacuum cleaners and toys in these ads. See these ads by the retailers: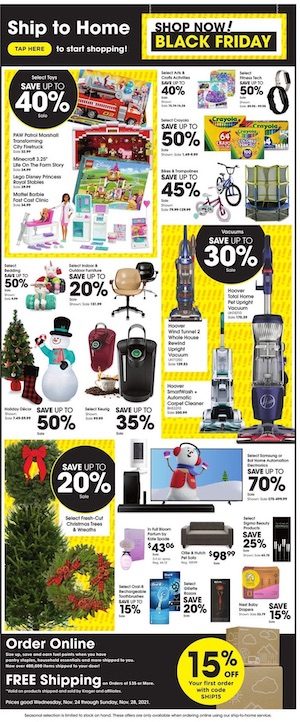 Walgreens Black Friday Ad 2021
Walgreens actually has a regular ad this week, however, it contains gifts of holiday and classic holiday products. Holiday treats are also available in this one. Walgreens also offers gift cards. In general, it's a good ad to find holiday and Christmas specials.
CVS Black Friday Sale 2021
CVS has a Black Friday insert in the new weekly ad for Nov 21 – 27. There are special deals of gifts in that insert. Photo will be 50% off. mfr's coupons, top discounts, and even free products with coupons are available on CVS Weekly Ad Nov 21 – 27, 2021.
Costco Black Friday Ad 2021
Costco ad has been around for some time. Holiday savings are in that ad. And every week there is a different product range of Black Friday sale. Costco offers kitchen appliances, TVs, home products, and many more.
Don't forget to see Thanskgiving deals on Dollar General, Jewel-Osco, Safeway, Vons, Albertsons, Stater Bros, ALDI, and many more stores. Receive more deals like Black Friday Supermarket Ads when you subscribe to the newsletter.