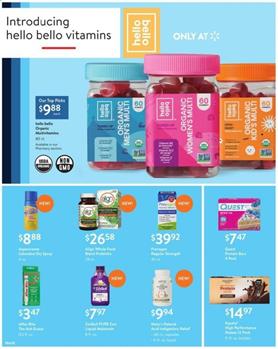 An exclusive product of the health care category in the latest Walmart Ad can be a useful deal for you if you regularly shop multi-vitamin pills. hello bello vitamins are only at Walmart. You can buy these USDA organic certified multivitamins for $9.88 today. The price range of this Walmart Weekly Ad will be valid until Jul 25. These products are on pg 9 and you can see 5 new items of the health care aisle. Shop new sleeping pills, acid indigestion relief, and more new products in this category with current Walmart prices. Walmart Ad hello bello Vitamins and more products are available today.
Check out these products of the latest ad:
Walmart Clearance Sale
Visit Walmart's clearance sale page for various categories to save big this week. Walmart recently created a new sale to oppose Amazon Prime Day. Just like Target's Deal days they have a wide range of products. Now, clearance sale can also help you save on summer products. Among the top clearance products, there are patio sales. We love to grill in summer and the essentials of grilling are possible to find at Walmart stores for a good price. Also, if you want to see top-rated grilling products check out our Amazon Grill sale guide that contains the best products of the category.
You can buy these products at Walmart: