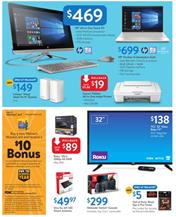 Find home computers and printers that can also be used in an office at Walmart Ad. Some products in the electronics category are exclusive to the Walmart. For example, Linksys Velop mesh wi-fi system will cost only $149 and it's only at Walmart. HP All-in-One PC is one of the top products in this category. Intel Pentium processor is still running fine on this kind of machines. 4 GB Memory and 1TB storage will easily handle the daily tasks of an office. However, if you are doing heavy work like editing, photo editing, photoshopping etc. that require GPU power, then I would not recommend this device. These are usually for Office 365 software or the like-class applications of PC. Moreover, you can find another HP computer that is a laptop. That runs on an Intel 8th Gen processor. Clearly, a better CPU but nevertheless it's a regular daily-use computer. Not a high-end range of PCs at Walmart Ad, but it can do the job for most of the tasks if you are not on a heavy work.
More products from electronics sale including smartphones of Samsung:
Subscribe to Walmart Ad page here with your email to get more deals and future ads. Also, follow our Facebook page where we share the posts like this one.