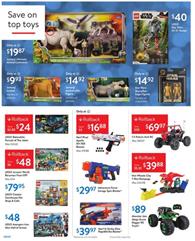 Toys are the primary gift types of Christmas every year. All department stores and warehouses have a kind of toy sales in their Christmas ads. They also publish toy catalogs that can show you the best toys of their entire range. Walmart also has one. It's called America's Best Toy Shop. However, a similar range of toy sales is also available on the Walmart Ad Dec 1 – 14. I also expect another ad on Dec 15 which will probably focus on a different Christmas sale with a greater number of items.
You can also buy exclusive (only-at-Walmart) toys on the ad. For example, Star Wars Skywalker saga figures will cost $14.92. Jumanji, Lego, and Nerf have new toys on pg 6 where you can find these. Most of the deals are also Rollback deals. Explore some popular Disney toys including Frozen II. The popularity of Disney toys is at its peak while two movies are being promoted everywhere. I can't wait to see the movie and the reactions by the core fan base of the Star Wars community.
Walmart offers bikes, ride-on, Christmas trees, and more for Christmas. Browse Walmart Ad toy Sale Dec 1 – 14, 2019 to beware of all the deals.
Keep in touch to follow such deals in the weekly ads. You can always try to lower the expenses with the proper amount of sources. Don't forget to check out the latest Walmart weekly ad.