Indoor entertainment begins with a real Ultra HD TV. Well it doesn't have to be a UHD TV but at least you need a decent technology to get a performance from the sound of the movie or a video game.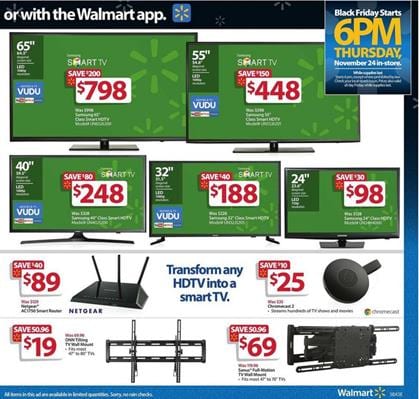 If you add a subwoofer sound bar to your equipment that might be even better. Technology manufacturers for luxury generally try to reduce the cost of the production. Surely that effects sound system in cars, TVs, laptops or whatever that might carry a speaker in its body. So this time you have a good brands and latest technology by Walmart Black Friday Ad. Check pg 3-4 for the savings on these TVs.
Samsung 50″ Class Smart 4K TV $398
Samsung 4K upscaling blu-ray disc player $79 – save $40
Vizio 38″ 5.1 soundbar with wireless subwoofer $149 – Special buy
RCA 37″ soundbar $29 – save $19
Samsung 65″ class smart HDTV $798 – save $200
Samsung 55″ class smart HDTV $448 – save $150
Netgear ACT1750 smart router $89 – save $40
Sanus full-motion TV wall mount $69 – save $50.96
DVD Movies at Walmart Ad
This part of the ad is full of special buys. On Nov 24 you can get the latest release DVD movies to watch in your holiday. After you have this TVs you need a lot of them. Don't bore yourself and take a look at the best movies of the world. 200 titles have been priced at $1.96 and over 260 titles can be purchased for only $3.96. Check pg 5-6 for all the special buys. The best technology of headphones to watch these movies via laptop or DVD player are highlighted products on pg 6.
LG Tone Pro wireless bluetooth headset $29 – save $35.88
Skullcandy uproar bluetooth headphones $25 – save $24.88
Altec lansing mini H20 bluetooth speaker $19 – save $20.92
Philips bluetooth noise-cancelling headphones – save $49
Although DVDs are so classy and looking good I love simplicity. Tablets make me happy when I lay on my comfortable bed and they are ones of the best inventions lately. Few of the high end tablets were priced so low at Walmart for the Black Friday.
Samsung Chromebook 3 $119 – special buy
iPad mini 2 $199 – save $70
Lenovo android tab 3 10.3″ $99 – special buy
RCA 7″ Android tablet $28 – save $21.87
Walmart Black Friday Gaming Sales
Who loves reality ? Seriously I hate the real things. I love being in the games and I don't see them made for an age group. Everybody should game at least 10 -30 min. a week. Of course if you have time you can play up to 10 hours a day. Sometimes I do that too. One of the most anticipated game of the year was Battlefield 1 of EA games. Now it comes with XBOX One at Walmart Ad. On Nov 25 2016 you can have one for only $249 saving $50 for yourself.
Xbox One S White 500GB Battlefield bundle $249 – save $50
Xbox Live exclusive 6-month subscription card $25
Skylanders Starter Pack pack for PS4 $39 – save $35
LEGO Dimensions Starter Pack for PS4 $39 – save $40 – 50.96
Skylanders Sansei character $9 – save $5.88
Nintendo 3DS super mario white or black edition $99 – special buy
That's an awesome video game sale on pg 14. From Mafia III to Fallout 4 you will see a brilliant list there. Call of Duty IW will be only $57 that will save you a sweet $22.88 ! Black OPS collection is $25 that is a special buy ! 20 titles were priced at $15, over 25 titles will be on sale at $8 ! Skyrim Special edition, Division, GTA V, Just Dance 2017 and many more.
Toys will be also on sale with this Walmart Black Friday Ad. We might go on with those. Follow our future posts to track deals.