Gaming consoles, Ultra HD Smart TV brands, gifts and toys will make your weekly shopping fun today !
The products are shoppable only on Walmart.com which also provides this online ad. Walmart Black Friday Cyber Monday Ad Nov 29 – Nov 30 is a product range consisting of the mentioned products in general. In addition all the necessary accessories like controllers, headphones to get the extreme quality from the media you are enjoying are possible to browse page by page. Each page is full of random products. You may create a decoration collection with the toys or gift them your kids ! A lot of savings are awaiting customers in the online shop.
WALMART BLACK FRIDAY PRODUCTS
Pickup is free for the products. Visit official shopping site of the Walmart and have these items as fast as possible. See entertainment and electronics on coverage:
The products that are only available on the online shop are specified so. Read the pages in case you want to visit the store.
Best deals of the electronics with the entertainment products are in their best forms. Video games and recent release movies can also be found on the ad.
Everyone can have a brand new Playstation 4 Star Wars console for only $399 on the online shop of Walmart today ! Don't miss out this deal by Walmart ! Check out toys of dolls and plushes on pg 4.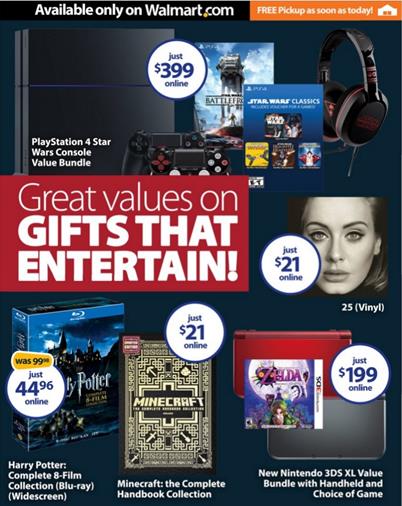 Not only electronics entertain us. Also see maximum savings on these outdoor camping products and nice gifts. Host your family this week and have the best gifts for them ! With Walmart online shop it is easier and cheaper !
Prepare your car for winter with Walmart car products. Tire, compressor, kits, heater and many more products are featured on the latest Walmart Ad !
Winter Clothing at online store of the retailer will have brilliant deals. For women and men you can check out the Black Friday prices on pg 9. Shirts, jeans, peacots, boots are available online.