Walmart hasn't published a new weekly ad yet.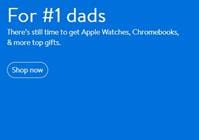 But the Father's Day sale is one of the hot deals of Walmart's online shop. They created categories like under $15, $25, $50, and you can find the best sellers in the sale. Fragrance, clothing, Blu-Ray movies, shoes, t-shirts, and similar sorts of small gifts may be alternatives for those who can't effort gifts like big TVs. Some ads offer TVs and consoles as gifts but I know that not millions of people will go buy a gaming console gift even though they love their fathers very much. Certainly not in a pandemic time with a major economical crisis all around the world. On the other side, I was surprised by the record high numbers of people who used mortgages recently. Apparently, the cost of the debt is again low. Check out these items from Walmart Father's Day gifts sale 2020:
Wait for the next Walmart Ad to see more deals in the future. You can always subscribe to the newsletter and start receiving new deals.