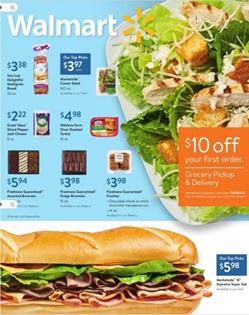 Browse this Walmart Ad for Marketside products such as caesar salad, and supreme super sub. Walmart grocery products are on the first part of the new Walmart Ad. Top picks from various categories are promoted offers. For example, buy the supreme super-sub for $5.98. Sweet things are also available for lower prices this week. The deals are effective until Aug 29. 4 Pack muffins will cost only $4.98. Shop snacks, packaged foods, TV dinners, and more at Walmart Ad. Doritos chips, Oreo cookies, and more products are also on sale. Quick sauces and side dishes are also a great part of the Walmart grocery category. Marketside milk queso dip is one of them. Pay only $3.86 for that item. Buy flavor mix multipack for $5.98. Great Value frozen meals, pizza, lasagna, and more products are also in the Walmart Weekly Ad Aug 11 – 29.
Check out these products from the Walmart grocery rollback savings:
Popular meals for dinner are on sale. Buy Great Value beef stroganoff, chicken and broccoli, and pilly-style cheesesteak. Get your household products like Clorox, Bounty paper towels, Ziploc sandwich bags, Charmin ultra bath tissue, and more items. Walmart has many more categories in this ad. You can subscribe to the free newsletter to get more deals like these. You can also follow our Facebook or Twitter pages to track these deals.