Easter gifts and Great offers by Walmart Ad are featured on this preview.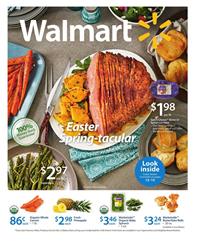 Top brands of candies, chocolates and gifts are on sale. See Oreo cookies, Peeps, Oreo eggs and many more beauties you can view on pg 12 are highlighted deals. Easter celebration could be in secular way or you may visit your Church for events. If you are giving up something for Lent, you can check out Walmart's seafood and other weekly ads that contain seafood. Special deals and particularly half prices are featured seafood products of the last week and this week. Don't miss out the best Easter celebration with Walmart !
Get Hershey's, Reese's and Easter Bunny candy for only $5 which are exclusive to Walmart. You can find Easter baskets on pg 13. Exclusive basket deals of Walmart can be purchased for only $10 ea ! All candy bamboo Easter basket is $19.98 !
Find kids clothing, Play Day games and toys, are featured on Walmart Ad. Don't miss out anything from this sale of Walmart and get instant updates with subscription. You can follow on Twitter or Facebook.