Winn Dixie Ad 22 June 2022 brings you the most savings deals on the most popular products! Different grocery products from many categories are waiting for you under various headings. Check out this Winn Dixie Weekly Ad and save maximum money on your weekly food shopping!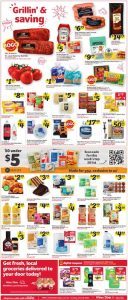 Winn Dixie Deals This Week
The barbecue season opens with the summer! The meeting of steak or other delicacies in the barbecue increases the excitement of barbecue lovers. Grilling is a passion for many people. Apart from the pleasant barbecue environment, what you need to have a successful barbecue is a great selection of products. Winn Dixie offers you the freshest and quality product selections!
With the hot summer months, everyone's favorite time is approaching! We are talking about a picnic with pristine open air, nature, friends and delicious delicacies cooked in a barbecue fire. In the barbecue season that opens with the turn of the season towards summer, everyone plans to spend a day with pleasant and delicious food.
Grilled Vegetables
Not only vegetarians love barbecued vegetables! Especially in summer, vegetable barbecue is a good alternative to other appetizers such as salads as a light flavor. In the barbecue, the vegetables gain a much more aromatic taste. Browse Winn Dixie Specials this week to buy the freshest vegetables at low prices!
You can prepare vegetables quite diversely and easily. Place large slices directly on the grill or prepare colorful vegetable skewers or mixed vegetables on a barbecue tray. Prevent vegetables from burning by adding a little oil, seasoned butter or marinad. Vegetables that you can especially prefer for barbecue can be eggplant, mushrooms, zucchini and peppers. You can also add fried cheese if you want.
Winn Dixie Ad This Week
USDA Choice Certified Angus Beef Boneless Chuck Roast, $4.99 lb.
Bone-in Center Cut Pork Chops, BOGO!
100% Natural Fresh Boneless Chicken Breast value pack, $3.99
Southern Grown Whole Seedless Watermelon, $4.99 ea.
Dole Salad Blends or Kits, BOGO!
Fisherman's Wharf Fillets, 2 for $10
Oscar Mayer or Beef Franks, BOGO!
4 Ct Larger or 8 Ct Mini Croissants, $3.49
SE Grocers Shredded or Chunk Cheese, 2 for $5
T-Bone or Boneless New York Strip Steak Value Pack, $5.99 lb.
USDA Choice Certified Angus Beef Boneless Chuck Steak, $5.99 lb.
SE Grocers Naturally Better Fresh Party Chicken Wings, $4.49 lb.
Fresh Tyson Spicy or Original Chicken Sandwich, 2 for $5
10 Inch Cream Pie, $12.49 ea.
St. Louis Style Dry Rub Ribs, BOGO!
Dietz & Watson Franks, Sausage, Kielbasa or Knockwurst, $6.99
Jack Daniel's Baby Back Ribs, $14.99 ea.
Nathan's Beef Franks, BOGO!
Bush's Baked or Grillin' Beans, 2 for $5
8 Ct French Bread or 8 Ct Vienna or Bolilo Rolls, £2.99 ea.