New deals of Winn Dixie can be viewed through the preview of the weekly ad. It will be valid until April 25.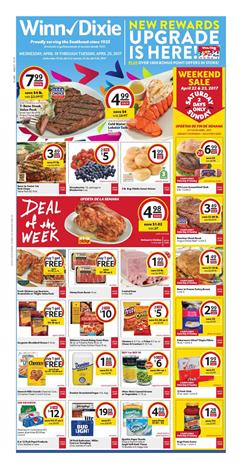 Winn Dixie offers a lot of bogo free items on cover page. They are mostly delicious food, seasonal meat, canned food, convenient food products like pizza and greens or vegetables. Shop for the best prices of Winn Dixie stores for the regular shopping products like these.
Weekend sale of this week will be turkey breast, boneless chuck roast, beef chub, and Fisherman's wharf tilapia fillets. Find fresh produce, deli and bakery products on pg 2. Green cabbage, large lemons, navel orange, potatoes from fresh produce are on sale. On deli and bakery, deli corn dogs, colby jack cheese and cookies, muffins are hot deals. Sweeterday at Winn Dixie is Saturday ! $10 each only 1/4 sheet cakes. Don't miss out ! Over 1000s products of Winn Dixie supermarket will earn you plenti points. Don't miss the deals with blue tags.
Shop for meat, outdoor spring entertainment products on pg 5-6.
Meat offers contain bogo free items. Don't forget to check out pg 5 for the latest meat offers by Winn Dixie Weekly ad. This week's sale is awesome. On cover page bogo deals are available.
For the top list of bogo free items check out the latest page of this ad. They got almost everything on sale with bogo free.