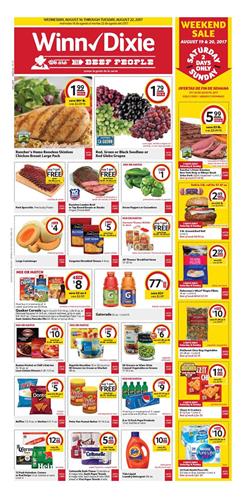 Grapes are one of the essential fruits that you should be consuming regularly. Seedless grapes are only $1.79/lb at Winn Dixie this week. Check out the preview of this ad to see Rancher's home boneless skinless chicken breast large pack that is not cheesy, much tasty, perfectly perfect food for your dinner. Mix and match sale for green peppers or cucumbers, that are both wonderful fresh food for you. Cantaloupe will be a match with most of your favorite drinks. You would be shocked if you know how many delicious things can be possible with cantaloupes. Refresh your energy with Gatorade that will cost only $.77 after Wednesday, at Winn Dixie stores. Peter Pan peanut butter is a BOGO free deal.
Fresh produce deals including cauliflower, 5 lb. russet potatoes, vine ripe tomatoes. Don't put your tomatoes in the fridge. Their natural atmosphere is hot weather, humidity and sunlight. They are perfect to store at room temperature. Red, Green or Black seedless grapes will be $1.79/lb this week. SE Grocers grape tomatoes or mini sweet peppers are mix or match sale and they are BOGO Free. Winn Dixie brings the best beef. Steaks and patties, packaged meat, seafood are all on pg 3. Ball Park meat hot dogs (Franks) is a BOGO free deal this week. Roman brand sausage is an Italian sausage. Italians are the best in business. Great everyday price for this product!
Back To School Deals go on this week. Wait for another post about school supplies. If your intention is to shop for grocery products, check out pg 5 to discover good products.
The best snacks you like, awesome summer refreshers, 5x points on snacks and beverage that you can view on pg 6. Campbell's chunky soup, 12 pk Lipton tea and more products are featured in the grocery range. General Mills fruit snacks can be purchased for 2/$5! Kool-Aid or tang will cost $5 for 2! Mott's applesauce would be a nice flavor in your desserts. Buy 2 Get 1 free of that applesauce this week at Winn Dixie Stores. Similarly, Buy 2 Get 1 free of 2L Coke! Frozen, dairy, pet care, home care and more products are available as an another category of the Winn Dixie Ad Preview.
See the great pizza deals of Winn Dixie Ad on the final page. Tombstone pizza, Home Run Inn, SE Grocers, products are available on that page.
BOGO FREE;