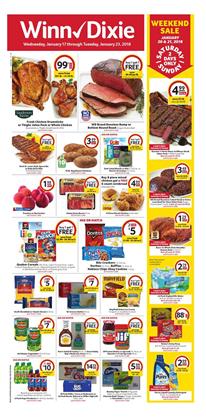 I love BOGO Free deals and Winn Dixie offers them as usual. If you are one of the customers who can't stop shopping unnecessary stuff, I recommend you browsing weekly ads because they usually show only the essentials and good prices. For example, this week there will be many BOGO Free deals on the first page of the Winn Dixie Ad. Jif peanut butter, Mayfield select ice cream, Quaker cereals will be BOGO Free items.
Let yourself get the healthy food all the time. Fresh products are going to be another thing on pg 2. Deli and bakery will also be on that page. Hand decorated 6 count cupcakes or bar cakes will be $3! Créme cakes, 8″ fruit pies, 12 ct. cookies, Artisan sandwich bread, 4 ct. King's Hawaiian rolls, have the lowered prices. It's true that Winn Dixie is one of the places to find such products.
Beef is another to thing to seek in Winn Dixie stores for much cheaper prices. Plenty of BOGO deals are serious deals of the week. Buy 10 participating items and save $5 with Plenti Card. Mix or match sale, no limits this week. They got generally canned food of Campbell's and Swanson covered.
This week, when you buy 3 participating items that will earn you 20 boxtops. BOGO Free deals also will be on these products.
Check out cover page deals with this ad:
Check out participating items:
I can't believe there are so many products in the grocery, beverages, snacks, and more will be on pg 5. Folks will love the ideas of deals on pg 6. Big Game savings there, a lot of good stuff waiting for you. If you are in the class who would like to check out these, don't be late. Subscribe this category page to get more deals and ads.