View the lowest price range of Kroger Ad Easter Mar 2016 featuring Easter chocolates and gifts or giftables along with regular food shop. Perfectionate your weekly shopping with the best deals you can find at Kroger Ad.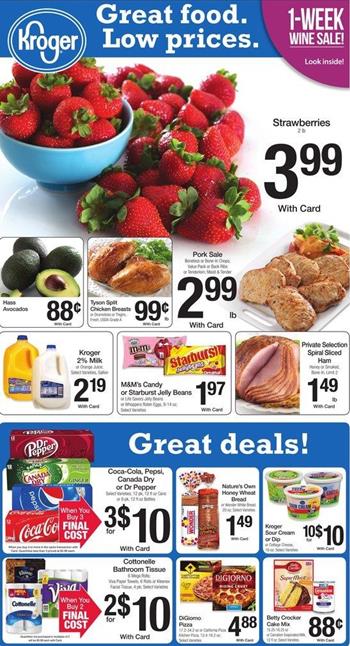 Great deals, maximum amount of saving possible with type of retailers like Kroger, organic food range, buy 3 save $3 deal, floral sale, basketball food and obviouslt the candies you love. Snacks range is also an attraction of this sale.
Don't miss out deli&bakery favorites, meat and fresh products on pg 2-3. Get your savings with shopping at Kroger Weekly Ad and stay with us to catch future posts. It is one of the best made ad of this week. Check out other brands like Albertsons, Target, Walmart and similar sort of retailers on the category list. They all got new ads for the Easter and you will have most savings.
FRESH Fruits and vegetables with organic food featured on pg 2 is your health centre. Organic products of Kroger on pg 2 are russet potatoes, organic lemmons, organic salads. Get red poatoes for $2.99, mandarins for $4.99, kale or turnip greens for $0.99 this week.
Needless to say mandarins has lot of benefits for health. Vitamin A, B, C, and anti oxidant are features of a nice fresh mandarin.
NATURAL FOOD and beverage are available on pg 2. See also floral sale on the same page. Roma vase, bunch tulips, blessing bouquet and more products including organic food were featured by Kroger Ad. Organic broth or soup 2 for $5, Simple Truth Organic beans, Simple Truth bar and more on pg 2.
DELI&BAKERY baked chicken, pita chips, potato salad, crunch cake, bakery muffins are the favorites. Artisan bread is a perfect one with freshness and delight. For only $2.99 you can have it on your table.
MEAT offers are T-bone or ribeye steaks, natural chicken, breakfast sausage, round roast and more that is available on pg 3. Smoked sausage, lunch meat, hot dogs are also featured products. For more information and more products please check out Albertsons Ad, Walmart Ad, Target ad and Ralphs Ad.
Easter candies are available on pg 4. Some of the candies like Snickers, gold bunny, cadbury eggs, and giftables like Easter plush.
Gifts for Easter: