Shop your grocery items at stores like Kroger and Publix next week because they have pretty nice deals. Today, you can browse next week's weekly ad preview offers of Walgreens, CVS, Kroger, Publix, Albertsons. Digital coupons, BOGO sales, grocery, and non-food categories are again in all of these ads. Use the digital deals of Kroger on the weekend and save more on your favorites. CVS pharmacy sale is also full of good deals. Like the previous week, you have advanced preview of the CVS Weekly ad. That sale covers ExtraBucks rewards, new BOGOs, coupons on beauty, pharmacy, and snacks. Awesome savings are available for everyone.
Kroger Weekly Ad Preview Aug 7 – 13
You can see a range of new grocery sale with digital coupons, 1 extra fuel point on gift cards, fresh products, and more in Kroger Weekly Ad Preview Aug 7 – 13. Next week, save with the deals on non-food categories including mix and match sale and "back to school" of Kroger Ad.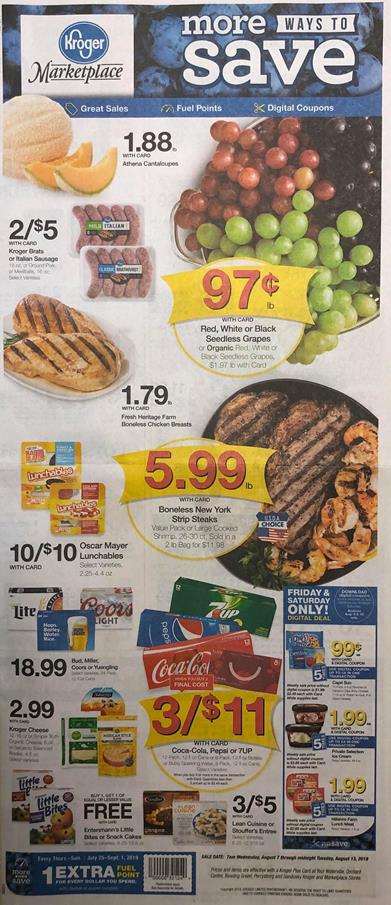 Publix Weekly Ad Preview Aug 7 – 13
Publix BOGOs and coupons will again be in the content of Publix Ad next week. BOGO Free deals will be a major deal in the ad. Also, see the coupon savings like $10 off when you purchase 1 $50 gas card with a grocery purchase of $50. Find Italian food, lemon-flavored sweets, and more in Publix Weekly Ad. Check out all items in it.
CVS Weekly Ad Preview Aug 11 – 17
Learn about the ExtraBucks of the next week in advance with CVS Weekly Ad Preview. You can earn $5 Extrabucks rewards with the household items starting on Sunday next week. A similar deal is also currently valid at CVS pharmacy. Don't forget to check this CVS Ad, too.
Walgreens Weekly Ad Preview Aug 11 – 17
Next week you can visit Walgreens stores to see these weekly ad deals. Deals of the week, new coupons, BOGOs, new savings and products and many more related things of the Walgreens pharmacy stores are in this Walgreens Ad. The digital version will be available on Wednesday. Check out Walgreens Ad preview prior to their digital release.