Memorial Day is May 25. You can find some nice foods for Memorial day in almost all of these weekly ad previews. Albertsons, Kroger, Jewel-Osco, and more stores have already these print ads. Some of them are digital and some of them are probably available in their mobile apps, too. Remember those who served this country. Enjoy the lands our fathers left for us. American supermarkets have always been a fan of culture and tradition. The way they connect people, create ways to communicate with the community, and serve with new ideas for these special days is fantastic. I think you will once again find what you need for the week at a lower cost. For an early look at these products and the new prices, check out the weekly ad previews of these brands.
Albertsons Weekly Ad May 20 – 26, 2020
Memorial Day is an important part of the latest Albertsons Ad. Meat, fruit pie, salmon fillet, grilled chicken and more products to have some fun at home. Check out all the deals of Albertsons Ad preview May 20 – 26 preview and possibly some coupons in it.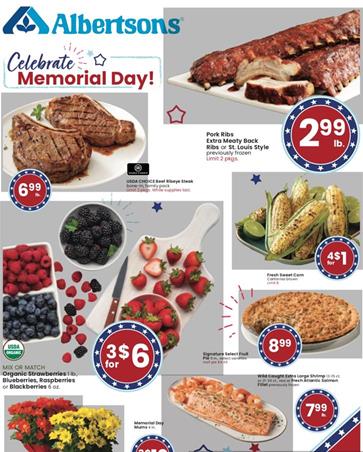 Safeway Weekly Ad Preview May 20 – 26, 2020
Another Safeway Ad that promotes new deals on fresh produce. This ad covers products like shrimp, soda, steak, watermelon, and more. They are all fantastic products. We all love these classic supermarket foods and sometimes newly arrivals of local foods. BOGO Free deals are everywhere in these ads.
Jewel-Osco Weekly Ad Preview May 20 – 26, 2020
Check out one of the most versatile weekly ads. On the first page, it strikes with so many deals, you can't track. Grilling meat like ribs, shrimp, and chicken breast are all part of the first page. Also, some of the are BOGO Free deals on Jewel-Osco Ad.
Winn Dixie Weekly Ad Preview May 20 – 26, 2020
The grilling food, snacks, hot god, and steak are some of the most popular categories in the weekly ads lately. Winn Dixie Ad preview covers the new prices of beef patties. Buy ground beef to make some burgers at home.
CVS Weekly Ad Preview May 24 – 30, 2020
Next week's one of the most anticipated weekly ads. CVS pharmacy ad preview has the beauty deals, a part of the household products, snacks, and BOGO free deals on this single page display.
Publix Weekly Ad Preview May 20 – 26, 2020
Again, not a full ad yet. You'll be able to find the complete ad on Tuesday. Come back next week to see all the new Publix BOGOs, full coverage of Publix Ad May 20 – 26 or May 21 – 27 for some.