Discover the latest fresh deals on fruits and organic products from various supermarkets in these preview ads. These early ads can help anyone prepare their shopping list prior to the valid dates of these prices. Kroger, Albertsons, Winn Dixie, Dollar General, Rite Aid, Walgreens, CVS, Publix are among the stores we frequently find preview ads of. Most people look for early ads for the coupons since they are limited offers. If you know about them early, you would have a greater chance to use them before they consume them all. Weekly Ad Previews Mar 4 – 10 of some of the major supermarkets are currently viewable. See all the scanned pages of these ads and start to prepare saving more this week and the next.
Kroger Weekly Ad Preview Mar 4 – 10, 2020
As usual, you can see new fresh produce sale and plenty of digital coupon sales in the Kroger Ad for next week. They have an extensive product range of 5x digital coupon event and special prices of general grocery products in the ad.
Albertsons Weekly Ad Preview Mar 4 – 10, 2020
The new meat sale is on the Albertsons Ad. Browse the digital deals and just for u coupons with the latest Albertsons Weekly ad. I am sure you can like something from the general merchandise sale of this ad. Easter baking or décor will cost 25% off.
Winn Dixie Weekly Ad Preview Mar 4 – 10, 2020
Mix and Match sales like all-natural fresh chicken drumsticks that will be BOGO free can be viewed in this Winn Dixie Ad. Extended weekend sale and digital coupons are also in this Winn dixie weekly ad preview.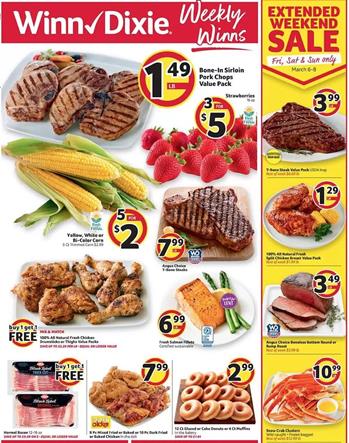 Dollar General Ad Mar 4 – 10, 2020
Multiple-buy savings and DG Digital coupons on household supplies. Dollar General Weekly Ad and its unique types of deals might be really interesting for any shopping enthusiast and those who manage homes to save more money.
Rite Aid Ad Mar 1 – 7, 2020
This isn't a preview ad and in fact, you can shop this ad tomorrow. Bonus cash savings and rewards are waiting for you on Rite Aid Weekly Ad Mar 1 – 7, 2020. You'll be able to shop with Sunday paper coupons and that's the important thing about this one.