They made some changes to some ads in terms of design and looks. Also, the changes on dates these ads are available can be changing from time to time. On Sundays, you can usually find previews of big brands and grocery stores. The special thing about this week is the Black Friday ads for sure. The most popular ads and sales of Black Friday belong to Target, Walmart, and Amazon. Of course, many more retailers have BF Ads right now. Check out them on the Black Friday page.  Thanksgiving shopping and the supplies of the week can be done using some weekly ads like Kroger, Publix, Albertsons, ALDI, or whatever store is near to your location. We try to cover as many stores as we can for entire America.
Kroger Weekly Ad Preview Nov 20, 2019
Since Thanksgiving is Nov 28, the valid date of the deals from this ad will be a little longer than usual. Shop the deals like Thanksgiving turkey, sliced ham, beef, multiple-buy snacks, food trays, beverage, easy meals, etc. on Kroger Weekly Ad Preview Nov 20 – 28.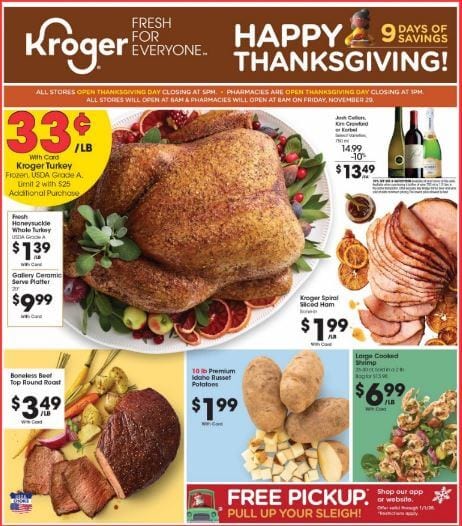 Albertsons Weekly Ad Preview Nov 20 – 28, 2019
I have always been a fan of Albertsons Ad and their work on researching the customer needs. One of the best stores in the south. They sell their product range with 3-days only sale, Thanksgiving turkey, click or clip just for u coupons, etc.
Publix Weekly Ad Preview Nov 20 – 27
This ad promotes new recipes, Thanksgiving dinner materials like ham, whole beef tenderloin, ingredients for your foods, turkey, and more. As usual, Publix Weekly Ad offers BOGO Free deals for next week. Don't forget to save with additional coupons.
ALDI Ad Nov 24 – 30, 2019
You have a week to prepare your shopping list for these deals. Gift wrapping, party products, socks, gifts, and more items are possible things to buy. For most customers, ALDI is the number one store for certain kinds of products.
CVS Weekly Ad Preview Nov 24 – 30, 2019
CVS Black Friday Ad and the preview of the deals for Nov 24 – 30 are possibly interesting online flyers for many. Earn more Extrabucks rewards next week and add some additional coupons to your list.
Walgreens Weekly Ad Preview Nov 24 – 30, 2019
Walgreens Pharmacy store has also important deals for the whole week. Deals of the week are half-price deals, and some items of the Black Friday Ad can also be interesting. The best prices will be available on Black Friday week and on Thanksgiving this year.