All these weekly ads are designed to be the next sale after Thanksgiving. Unlike a regular weekly ad, most of them will start on Friday. And some of them like the Dollar General Ad is already valid. The ads will continue to be important for the celebration doesn't come to an end after Thanksgiving. You have Christmas, too. And toys like Santa figures, reindeer, holiday gift wraps are also in the supermarket ads. The majority of the sales have some BOGO deals, too. You can save on your favorite candies. Find snacks like those from Harry Potter movies in these ads. Don't forget that Nov 27 is Black Friday and alongside the department stores, some supermarkets have also great Black Friday deals. If you want to see all Black Friday Ads click here. Check out some of those Weekly Ad Previews Nov 27 deals:
Kroger Weekly Ad Preview Nov 27 – Dec 1, 2020
This week's weekly ad deals with Kroger will start on Black Friday. The current version is not complete. Come back later to see its full version. Kroger Ad Nov 27 has some classic Christmas merchandise. Gift wraps, Santa, Christmas tree decor, and Christmas stockings will be on sale.
Dollar General Ad Preview Nov 22 – 28, 2020
4-day sale and more holiday gifts from Dollar General Ad this week. Garland, wreath, stocking, and more Christmas inside the new ad. The details of the latest DG Christmas sale will be worth seeing this week.
Albertsons Weekly Ad Preview Nov 27 – Dec 1, 2020
Albertsons Black Friday sale is in this ad. Holiday gifts are the majority of the big sale. Find some bikes, kitchen appliances, Christmas decorations, and more products in that Albertsons Ad.
Jewel-Osco Ad Preview Nov 27 – Dec 1, 2020
Like many other supermarkets, Jewel-Osco Ad has new holiday deals. From now on, until the New Year, every ad will possibly have a new holiday gift or Christmas décor sale. This one offers half-price deals on some pantry products. Go to the third page to see Jewel-Osco Black Friday holiday products.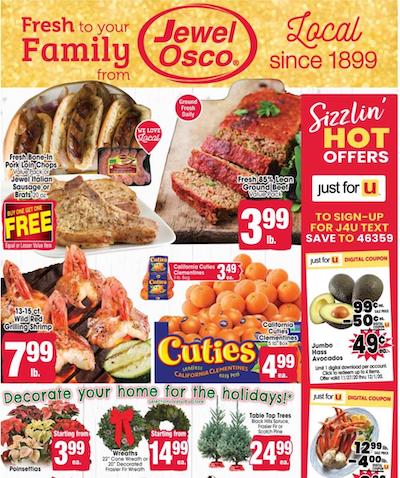 Winn Dixie Weekly Ad Preview Nov 27 – Dec 1, 2020
You can browse a new list of Winn Dixie BOGOs on this ad scan. Game snacks, holiday, new coupons, and more are also available on the latest Winn Dixie Ad.
Vons Weekly Ad Preview Nov 27 – Dec 1, 2020
The Black Friday sale of Vons is one of the promoted things of the new ad. Save $5 off some items like pasta sauce, ground beef, shrimp, and more products on the first page. Fab!5 sale is another sale of the Vons Ad Preview.
CVS Weekly Ad Preview Nov 29 – Dec 5, 2020
Holiday Extrabucks from CVS ad. New BOGOs, new participating items. Wait for a good Christmas sale on Thursday. The preview will be updated on that day, too. Also, more vitamins are BOGO free deals.
Subscribe to receive what will come after the Weekly Ad Previews Nov 27 – Dec 1. Sunday papers will also be updated.