Replace your old stuff for school or collect the necessary items together in your pack. Currently Kroger, Walmart, Publix, Winn Dixie, Target and Albertsons weekly ads offer school supplies for lower prices. Back to school backpacks, pencils, notebooks are essentially retailed products of almost all of these weekly ads.
Kroger's back to school sale is available on final page of the ad. They offer backpacks for $9.99, Crayola colored pencils for $7.99, Five Star notebook 100 sheets for only 2/$5. See latest sale of Kroger on pg 7.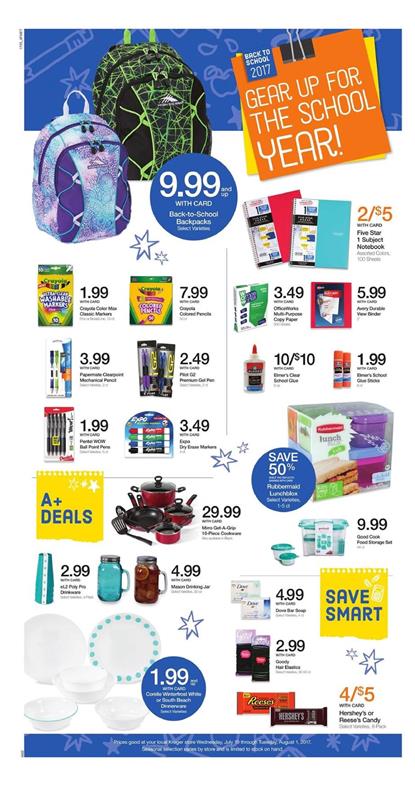 Publix back to school sale contains stationery products. While you can see a range of lunch food list on the other weekly ads, Publix only focused on the stationery products. See their latest ad with a lot of bogo free deals for school products. BiC mechanical pencils, Scotch 5″ scissors and more products could be in your backpack.
Albertsons is another store that offers back to school savings in a single ad. They have a weekly ad consisting of 4 pages with school food, personal care, stationery products like pencils and notebooks. You can find pretty nice things at Albertsons Ad for cheaper prices than regular.
Winn Dixie Ad back to school in-ad deals are generally food products. New deals from this ad are almost all food products. Cereals, Nutella, $10 reward for purchasing 10 participating items and many more deals are featured on pg 7 of that ad. You can Buy 1 Get 1 free school supplies at Winn Dixie. In addition, latest sale contains down down prices and a lot of half prices on many products.