Weekly ad deals from Kroger, Winn Dixie, and Publix are people's favorites. If you wanna become a frugal person who can save a lot, you might wanna check out these ads every once in a while. But they are always available on a weekly basis. Kroger shows new deals of grocery items and snacks. They have new items in the mix & match sale. These ads already have some Valentine's Day deals, too. Check out the dinner ideas you can spot on Publix Weekly Ad Jan 25 – 31, 2023. Shop BOGOs and save double. Both Winn Dixie and Publix are expert BOGO markets. Explore all these offers on Grocery Ads Jan 25 – 31, 2023 by three brands.
Kroger Weekly Ad Jan 25 – 31, 2023
Kroger Ad doesn't disappoint and it offers 10x fuel points through Jan 31. You can scan the code on the first page to download the coupon. The ad is full of good deals.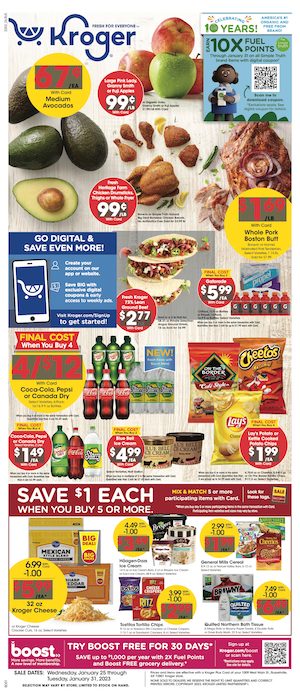 Winn Dixie Weekly Ad Jan 25 – 31, 2023
When you spend $50, get $20 off & free delivery at Winn Dixie stores. Guaranteed freshness is available at Winn Dixie stores. Browse the deals on the weekend sale category. T-bone or boneless ribeye steak value pack. Much more is available in Winn Dixie Ad.
Publix Weekly Ad Jan 25 – 31, 2023
Check out the top deals on grocery items in Publix Ad. You can shop stock up items. The essentials are cheaper this week. New recipes are available. The fresh food is here and the deli products. You can buy crackers, chicken tenders, and much more in the new ad.
Subscribe to the newsletter to receive more deals like grocery ads Jan 25 – 31, 2023. Major stores like Kroger will always offer deals like these.
Harris Teeter Weekly Ad Sale Jan 25 – 31, 2023
Check out the new prices of NY strip steak, strawberries, mandarins, and more products on the first page of this ad. e-Vic savings, BOGOs, and more can help you more on grocery products. Some items will cost only $1 each if you buy 10 of them.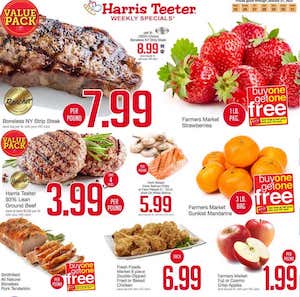 More offers like these can be sent to your email if you subscribe to the newsletter.