New Year Ads in South will be impressive this week. New Year Party snacks and supplies are great offers to find in the latest grocery store weekly ads. Digital coupons, 4x fuel points, cooked shrimp, mix & match sale, and many more products are available in these ads. Kroger, Publix, Winn Dixie all have great ads as some of the best Southern supermarkets. Publix has perfect solutions for your party. They have croissants, good deals on drinks, excellent selection of seafood and meat products. It can be a romantic night or you can invite guests. Either way, you will be fine with the best foods at lower costs. Likewise, Kroger offers great digital deals like beef Franks, chocolate chip cookies, cabbage, and more products.
Kroger Weekly Ad New Year 2022 – 2023
The new Kroger Ad advertises the 4x fuel points like the previous ones. They have new BOGO free deals on some snacks and sauces. Mix & match sale, digital deals, coupons, and more are also featured offers this week.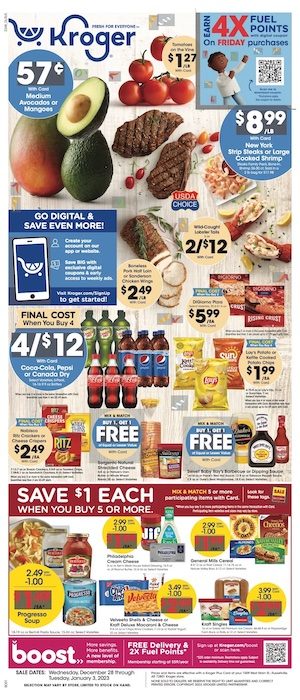 Publix Weekly Ad New Year 2022 – 2023
The new ad by one of the best Southern supermarkets has almost everything you need for a new year party. You can buy delicious treats like croissants or see a selection of wine or champagne. Meat and fresh products selection are extensive and you will see BOGO-free deals as always.
Publix BOGOs are always great offers. It is always a pleasure to find them in these ads.
Winn Dixie Weekly Ad New Year 2022 – 2023
Winn Dixie ad is a promotion of $10 off $50 with orders above $35. Get free delivery, too. The new ad is here and you can find great offers on weekend sale. New Year celebration products, treats, party foods, are all featured deals of the week.
General grocery items are a big part of this ad. Naturally, you can already find the ingredients and canned goods that will be needed when you wanna try some recipes. The last page of the ad contains $5 Friday sale. Each item is only $5. Go to weeklyads2.com/winn-dixie/ to see more Winn Dixie Ads.
Expect to see more New Year Ads in South like Piggly Wiggly, Harris Teeter, and other retailers.