People tend to buy a little extra these days when it comes to grocery, but there are things going on outside of the food sale. New home products may appear on the ads of those stores which sell some nice little home essentials like rugs and kitchenware. Don't forget to buy that food storage product you have been intending to buy for some time. Next week's prices for regular grocery products including fresh vegetables are in these ads. Most supermarkets are major retailers of these items. I am sure you know all of these stores very well. Now, most supermarkets have new jobs. Publix, Kroger, Walmart, and many more stores will hire. In the ads, they promote these jobs like that of Publix Ad's first page. Whilst you can view the best offers in these ads, you will also observe the possibility of saving more through the coupons, points, rewards, cards, gift cards, and similar sort of promotional practices of saving by the stores. Today, we are able to browse Kroger, Aldi, Publix, Albertsons, Costco, Winn Dixie, Walgreens weekly ads before even they are valid.
Kroger Weekly Ad Preview Apr 15 – 21, 2020
This is one of the most popular, maybe the most popular supermarkets of all. See the Kroger preview ad for new prices of products like Little Bites, Cliff Bar, Cantaloupe Melon, Boneless Strip Steaks, Red Seedless Grapes, and more products on the first page. Kroger Ad is regularly updated and it usually contains announcements like the job offer. Home & Patio sale and merchandise products are also available in the ad.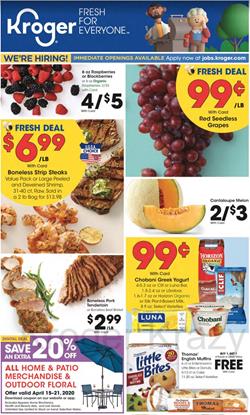 ALDI Weekly Ad Apr 12 – 18, 2020
Tomorrow the deals appearing on this ad should be valid. ALDI Ad sneak peek offers are home products like rugs, Gardenline gardening products, figurines to decorate your garden, boots for kids and umbrellas, and some grocery products, too.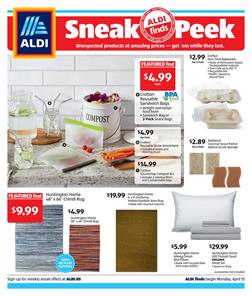 Albertsons Weekly Ad Apr 15 – 21, 2020
Again, Monopoly Bonus Ticket items for a chance of a big prize, new prices of grocery products, and general merchandise are in this Albertsons Ad. The deals will start on Apr 15 – 21.
Publix Weekly Ad Preview Apr 15 – 21, 2020
Find new BOGO Free deals in Publix Ads. They are the classic deals of all Publix ads. You can see steak, asparagus, coffee cake, ground chicken, tortilla chips, Thomas' Bagels, and more delicious food deals on the cover page.
Walgreens Weekly Ad Preview Apr 19 – 25, 2020
Walgreens usually publishes an HD version of the weekly ads. But this is clear enough to see what deals they will have on Apr 19. Browse Walgreens Ad for 10x everyday points, BOGO deals, online coupons, snacks, beverage deals, pharmacy sale, and many more.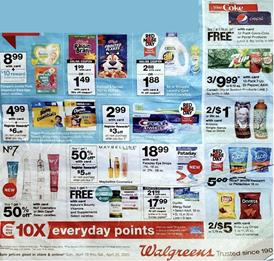 Costco Ad April 2020
Shop no-limit products like Michelin tires, clothing sale, electronics, gift cards, iRobot products, fridge, and more for your home. Costco Weekly Ad offers are really interesting and they regularly announce surprisingly good deals.
Winn Dixie Weekly Ad Apr 15 – 21, 2020
You can see the new Winn Dixie Ad preview, too. New BOGOs appear in the ad preview. You have meat sale, snacks, ready meals, deals of the week, mix & match sale, and more in this ad, too.