New weekly ads are now available for browsing. Although these are only in poor quality, many shoppers use them to prepare for the next weeks. Before you decide what to buy for next week's regular shopping, I recommend you to have a look at these products in Kroger, Publix, CVS, and other retailer weekly ad previews so that you can be sure that you are saving. These ads are not only the informers of prices, but they are also quick guides leading you to earn more rewards. No matter what you seek, you can probably find a good deal on that item. Check out the top quality fresh vegetables, meat, and seafood products in all of these ads. Some of them are not grocery ads. You can also find non-food products and pharmacy deals in them.
Kroger Weekly Ad Preview Jul 15 – 21, 2020
Save on your favorite fresh products in these ads. Fresh products are going to cost cheaper starting on Wednesday which is the day that Kroger's sale cycle renews itself. Kroger Ad can show you some fresh deals on the cover page, new products of the mix & match sale, and more sales.
Publix Weekly Ad Preview Jul 15 – 21, 2020
Explore upcoming deals of the next week in one of the most popular supermarkets in the south. Publix Ad Preview is again one of the top deals of the week. Check out coupons, organic foods, Publix BOGOs, summer sales, and more deals in this ad.
Albertsons Weekly Ad Preview Jul 15 – 21, 2020
Like other supermarkets here, Albertsons is also one of the primary places people visit to shop top quality fresh food or meat. One of the best deli departments in its regions, well-known services among its customers. Albertsons Ad preview shows the promoted deals of the week. I also recommend you to see this ad if you have a store nearby.
Winn Dixie Weekly Ad Preview Jul 15 – 21, 2020
A few deal types at this store are pretty popular. One of them is the weekend sale and sometimes Winn Dixie has extended weekend sales. Today, you can browse the entire Winn Dixie ad preview for its top deals. Products like t-bone steak, juicy steak, and similarly very popular products are also deals from the meat department of this supermarket.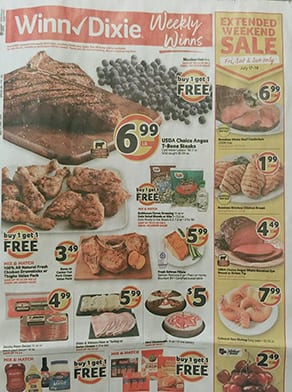 Safeway Ad Preview Jul 15 – 21, 2020
Another preview ad is updated on Saturdays. Find promotions of triple rewards, BOGO deals on snacks, 3-day sale, new coupons, and more deals in the Safeway Weekly Ad today.
ALDI Weekly Ad Sneak Peek Deals Preview Jul 19 – 25, 2020
A super early ad that ALDI love to publish on Sundays. Starting from next weekend, you can save on some home products, kitchenware, school supplies, and more groups of products.
CVS Weekly Ad Preview Jul 19 – 25
One of the CVS super early ads that are available right now. Learn about the upcoming Extrabucks Rewards, BOGO free vitamins, and more savings of pharmacy in the new CVS ad, here.