New special deals are some profitable items in all these weekly ad previews for Jul 22 – 28. One of the best deals of the week is a special deal for teachers. For example, at Kroger, teachers can get an extra 10% off. The deal will be valid for school, home, apparel and more categories. Don't forget to see BOGOs. Some grocery stores have really important BOGO deals on your favorite items. Meat, deli products, and back to school sales are included products. CVS has also a single page preview today. Find sneak peek preview of the deals, too. Some stores have promoted their deals two a week before they are valid.
Kroger Weekly Ad Preview Jul 22 – 28, 2020
Kroger will offer double fuel points. That deal goes on. Teachers can get extra discounts. Mix and match sale was a big thing last week. This week, you have 5x digital coupon event. Fresh deals are really important to notice if you are looking for discounts on fresh fruits, meat, and vegetables. Come back on Tuesday for HD Kroger Ad.
Publix Weekly Ad Preview Jul 22 – 28, 2020
View new grocery offers including Publix BOGOs in this weekly ad preview. Like other supermarkets, coupons are hot deals. Meat, steak, seafood, and deli products are being promoted. Publix school sale is available on pg 12. You may see them early today.
CVS Weekly Ad Preview Jul 26 – Aug 1, 2020
The special thing about CVS ads is the great coupon matchup products. Save with mfr's coupons and in-ad deals of CVS Weekly Ad. $10 Extrabucks deal is going on this week, too.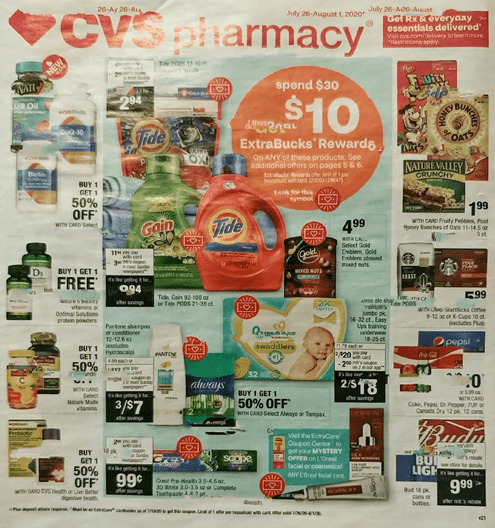 ALDI Ad Sneak Peek Preview NY Jul 26 – Aug 1, 2020
Browse the deals on home products, toys, food, and back to school sales on ALDI Weekly Ad. The last page of this ad has lunchboxes on sale. Practical products to prepare some breakfast in the school mornings.
Safeway Weekly Ad Preview Jul 22 – 28, 2020
One of the popular supermarkets with downloadable coupons, fresh meat sale, groceries at lower prices, Pick 4 or more to save, and more deals. Safeway Friday sale is also on this ad. I am sure you'll like one thing or two in this ad, too. Again, Safeway Ad will be updated on Tuesday.
Jewel-Osco Weekly Ad Preview Jul 22 – 28, 2020
Jewel-Osco Ad has new coupons for deal hunters. Check out Jewel-Osco BOGO free deals on this one. Summer sale of snacks, awesome prices of beverage, grocery, mix or match sale, and more content is waiting for you on the new ad.
Albertsons Weekly Ad Preview Jul 22 – 28, 2020
Browse the weekly ad of your source of food in the south. Albertsons just for u coupons are available on pg 2 where you can also find triple gas & grocery rewards. Big Savings of the supermarket can be found on this ad. Back to school sale is in the final page of this ad.
Winn Dixie Weekly Ad Preview Jul 22 – 28, 2020
Check out top deals of Winn Dixie Ad and learn which products will be on sale next weekend. Grilling meat ideas are also viewable in this ad. P&G and Nabisco purchases will also be donated to Feeding America. Learn about that campaign on pg 6. BOGO free sale, down down sale, and common grocery items at lower costs in Winn Dixie Ad preview.